England v New Zealand: Retro cricket comes to Lord's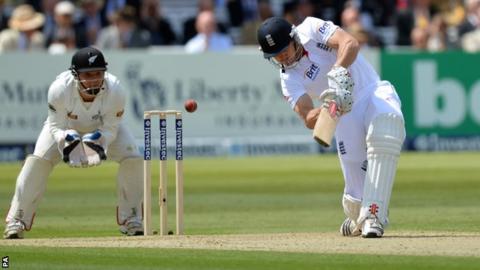 The opening day of the first Test at Lord's was retro cricket, with England batting in a style that belonged to an era when patient accumulation was the norm.
Their approach to grinding out 160-4 was borne out of a determination to respect New Zealand after the disappointing 0-0 series draw in March, as well as conditions that made scoring runs very difficult.
The pitch was slow, the outfield sluggish and, with tight fields and disciplined bowling, run-scoring was always going to be difficult.
In those circumstances, you have to take risks to seize the initiative and when you take risks there is always a possibility of getting out - as we saw with the dismissal of Nick Compton, who will be furious with himself for throwing away his wicket.
Ian Bell was the only other England batsman to get out to a poor shot - playing at a ball he should have left alone - but Alastair Cook and Jonathan Trott fell to good deliveries, the latter brilliantly caught by Dean Brownlie at third slip.
Perhaps the biggest positive for England was the timing of the rain which brought a premature end to proceedings just when New Zealand were threatening to get on top.
Jonny Bairstow, in particular, will have been mightily relieved when the umpires decided to take the players off, having walked out to bat in a nightmare scenario with the floodlights on, rain falling and a new ball due.
This is an important innings for him to try to ensure he is the first cab off the rank for the Ashes against Australia - and he can come back tomorrow morning and look to build a substantial score.
On the other hand, I do not expect conditions to be much easier for batting on Friday and both teams are likely to find runs hard to come by, with the possible exception of New Zealand captain Brendon McCullum, who has the ability to come out and hit the ball hard.
It will be hard work, with runs at a premium, and both teams knowing that if you lose two or three quick wickets it could have a massive impact on the game.
If the weather holds - and the forecast is improving all the time - this could turn out to be an exciting match. Just because only 160 runs have been scored, we should not give up on it.