David Warner: Australia batsman faces hearing over 'abusive' tweets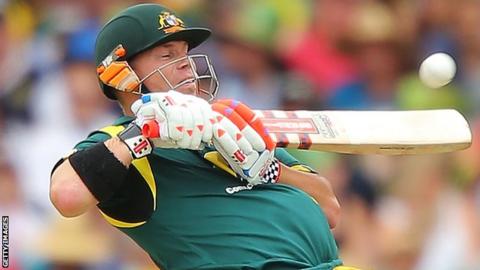 Australia's Test opening batsman David Warner has been charged with breaching Cricket Australia's code of behaviour after abusive comments to journalists were posted on his Twitter account.
The 26-year-old faces a hearing on Wednesday over the messages.
The posts, some containing obscene language, appeared after News Limited's Robert Craddock criticised the Indian Premier League.
Warner is currently appearing in the IPL for Delhi Daredevils.
Australian cricket's governing body said: "Cricket Australia has today advised that David Warner has been reported for breaching CA's Code of Behaviour.
"Warner is alleged to have breached Rule 6: Unbecoming Behaviour, regarding comments posted on his twitter account."
Rule 6 states: "Players and officials must not at any time engage in behaviour unbecoming to a representative player or official that could (a) bring them or the game of cricket into disrepute or (b) be harmful to the interests of cricket. This rule applies at all times where the unbecoming behaviour involves the player being involved in public comment or comment to or in the media."
The other reporter mentioned in the tweets, Malcolm Conn, said he had spoken to the governing body.
Conn said Cricket Australia, which was trying to contact Warner in Delhi, had told him it was "disappointed by the language" used on the social media website.
The journalist added: "I'm all for free speech and strong opinions. I'd be quite happy to let it go. I don't think there's anything untoward about expressing your opinions but I can understand [Cricket Australia's] position.
"They are very concerned about their image. Twitter is followed by a lot of young people.
"It's a very bad look if you've got an international cricketer, particularly one with leadership aspirations, using bad language on social media when he's got 189,000 followers."
Warner was recently named in Australia's squad for the Ashes Test series, which begins at Trent Bridge on 10 July.
Averaging 39.46 with the bat, he has scored three centuries in 19 Tests.
Australia also turn to Warner as an occasional bowler - among the leg spinner's four Test victims are South Africa's Hashim Amla and West Indies' Darren Bravo.