Glamorgan: Aussie Michael Hogan battles pitches, balls and weather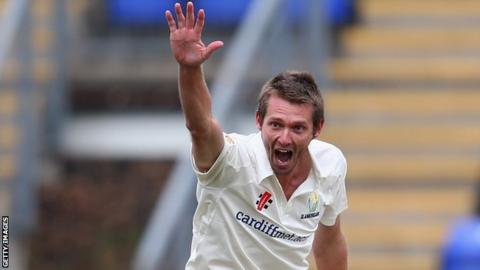 Glamorgan fast bowling recruit Michael Hogan has had to battle unfamiliar pitch conditions, cricket balls and weather to make a successful start to his county career in Britain.
Hogan, 31, who ahead of the 2013 season, took 15 wickets in his first three championship matches before equalling his career-best performance with 6-70 in the first innings against Essex.
But when he turned up for pre-season practice, it was not only the kit that was white - he was seeing snow for only the second time in his life.
"I'm settling in quite well, but this weather's a bit different," said Hogan.
"My first training session it snowed so it's not really what I was expecting."
After recovering from the initial shock, Hogan had to adjust from the fast, bouncy pitches of Perth.
"[The pitches are] slower, with less bounce than the Waca (Western Australian Cricket Association ground).
"You've got to bowl a bit straighter and try to hit the stumps a lot more.
"I guess you've just got to adapt as a bowler and as a first-class cricketer and I think I've done that so far, but it's only early-season."
Hogan believes he will improve further after becoming accustomed to the different make of cricket ball used in the UK.
"It's very slippery and I haven't always had the control early that I'd have liked, especially with the second new ball so it's something I've been working on," he said.
Some Glamorgan supporters may have been disappointed to see young Welsh seamer James Harris replaced as the spearhead of the attack by an import the wrong side of 30.
But since he has only been playing first-class cricket since the age of 28, the Australian paceman with the British passport says he has a few good years left.
"I'd like to stay as long as I can - the delay from last season [when Hogan was meant to arrive mid-summer]... Glamorgan were really nice, really understanding for me and the family.
"I've got no intention to move anywhere, so I'd like to hopefully help get the side get promotion [in the championship] and a fair degree of success."
But Hogan admits to a few sleepless nights - not because of sporting reasons, but because of his young son Buddy still waking during the night.
And as a "50-50 parent" Hogan says he does not take the option of moving to a spare room to ensure he is fresh for Glamorgan duty.
With the wickets tumbling and British temperatures gradually climbing, it may be opposition batsmen that lose sleep over facing Hogan on the field.
*A full version of Michael Hogan's interview with Edward Bevan will be aired during the interval of Glamorgan v Gloucestershire in the Yorkshire Bank 40 competition on Sunday, 19 May on Radio Wales AM and digital from 1400 BST, and on this website from 1345 BST.