England v New Zealand: Broad and Anderson back to their best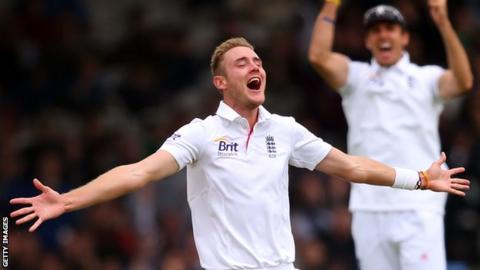 After a disappointing tour of New Zealand, it was great to see England's frontline bowlers rediscover their bite in the 170-run victory over the Black Caps in the first Test.
James Anderson and Stuart Broad looked a penetrative new-ball partnership and carried an air of hostility at Lord's that was not there in New Zealand.
Anderson, who went past 300 Test wickets in this match, once again showed what a great leader of the attack he is.
He was doing things with the ball in the second innings that were outrageous and, although he only picked up two wickets to Broad's seven, the pressure he created was immense.
Broad, likewise, looked a different bowler to the one who toiled at times in New Zealand and we should not forget that he picked up the key wicket in the first innings by having Brendon McCullum caught behind.
On Sunday, he took a lot of confidence from his batting cameo into his bowling.
The conditions were more helpful, but Broad's display was another reminder that he is not someone who should try to bang the ball into the pitch or bowl too fast. He pitched the ball up, got it to swing and earned his rewards.
Broad has been buoyed by the fact that he has been given the new ball again; it hurt him a bit when Steven Finn was preferred in New Zealand.
As a quick bowler, you are at your most effective with the new ball and I hope this match restores his confidence and we see the return of the genuine wicket-taking bowler and hard-hitting number eight he has always promised to be.
Finn is the one England bowler who still has work to do, but people should not be too hard on him.
On Sunday, he was bowling on the square in front of 20,000 fans, with all the coaches studying him - just 15 minutes before he was due to bat.
While Finn needs to practise if the ball is not coming out quite right, it is not going to help his confidence to make him do it in front of the crowd and opposition.
Often all it takes to rediscover your form - as Broad will tell him - is to take a few wickets, and suddenly everything just clicks.
Another positive for England in this Test was the slip catching, which looked very makeshift in New Zealand.
Not only did England hold the majority of their chances, but they looked more confident and, as a bowler, you need to know that the players lining up there are going to take the nicks.
The England batting, however, remains a concern and there is plenty of work to be done.
It was just about good enough to beat New Zealand in these conditions, but they simply cannot go on collapsing as frequently as they have been.
There were too many poor shots and unforced errors that need to be eliminated before the back-to-back Ashes series against Australia this year.