Worcestershire's Alan Richardson keen to keep up the momentum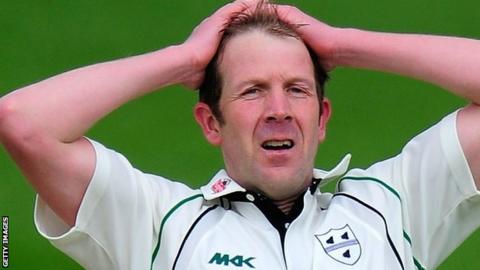 Worcestershire paceman Alan Richardson hopes to maintain the momentum fuelled by their County Championship win over Kent inside two days at Canterbury.
Having gone into the game bottom of Division Two, Worcestershire stunned Kent by bowling out their hosts for 63 on Saturday to win by 10 wickets.
"We had a few good performances with bat and ball. Hopefully, the momentum will now take us on," said Richardson.
"We're a pretty resolute bunch," he told BBC Hereford & Worcester.
"We take the knocks and keep bouncing back."
Victory at Canterbury was Worcestershire's first Championship win since being relegated eight months ago - and ended Richardson's rare lean start to the summer.
"I'd been whingeing and moaning to the lads that I couldn't buy a wicket," said 38-year-old warhorse Richardson.
"Then Jack Shantry took seven against Oxford University and that was more than I'd got all season.
"I was just hoping my luck would turn. It certainly nipped around and, if you stick it in the right areas for long enough, you're just trying to create doubt in minds.
"But it was one of those days when everything went to hand, the boys caught well and Gareth Andrew was fantastic at the other end.
"Lancashire a couple of years ago at home pretty much exactly the same thing happened," added Richardson, whose 7-22 earned his best figures for the county, as well as a career-best match analysis of 12-63.
"He's unreal," said Worcestershire coach Steve Rhodes, who compares him to another ageless performer, Lancashire's 39-year-old captain Glen Chapple.
"We've got him under contract for another year and Glen's a couple of years older, so he can keep going for a while yet.
"In the first few games, he's bowled really well and not taken wickets. But now they've come in a bundle. A super effort from a wonderful performer.
"And we've finally got some points under our belt. Hopefully this will be the start.
"We always felt we had some good players. We just needed a bit of confidence."
It was only Worcestershire's second win in 24 Championship matches going back to 1 September 2011, when they last won at New Road, that two-day victory (inside five sessions) coming against Lancashire.
Worcestershire now play only their second home Championship game of the season when they host Gloucestershire in a four-day game starting on Wednesday, which brings back in-form Australian Michael Klinger to New Road.
"It didn't help that when he was with us early last year we played on some stinking wickets, but you could still see he's a fine player," said Richardson.
Rhodes also earmarks Klinger, who comes into the game on the back of successive Championship centuries, as the dangerman.
"Michael Klinger's a good player," added Rhodes. "That's why we signed him.
"But he's got some weaknesses which we hope to expose and, like any batsman, it only takes one ball."