Kevin Pietersen still a doubt for Ashes series against Australia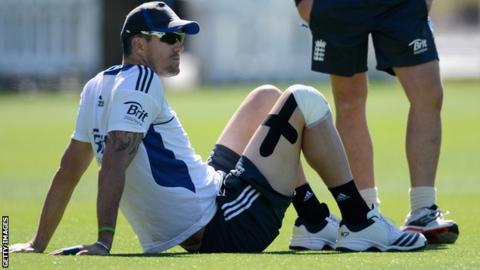 England batsman Kevin Pietersen is still not sure he will be fully recovered from his knee injury in time to face Australia this summer.
Pietersen, 32, suffered bruising on the bone in New Zealand and has not played since the second Test in March.
He will miss the Champions Trophy but was set to be back by mid-June ahead of the first Ashes Test on 10 July.
"He was really excited about the Ashes, but he said he is still not sure," said England bowling coach David Saker.
"I just asked him if he thought he would be all right and he said he thinks he will. It was probably the only answer he could give. He doesn't know.
"Until he knows he can run around and it doesn't flare up, he can't have an answer on that. He hopes he will be ready."
England beat New Zealand by 170 runs in the first Test at Lord's with Stuart Broad taking 7-44 and Joe Root top-scoring with 71.
Following the home New Zealand series, England host the Champions Trophy tournament from 6-23 June and then compete in a five-Test Ashes series against Australia, beginning at Trent Bridge.
England then travel to Australia for another Ashes series, which runs from 21 November until 7 January 2014.