Joe Burns focused on Leicestershire not Australia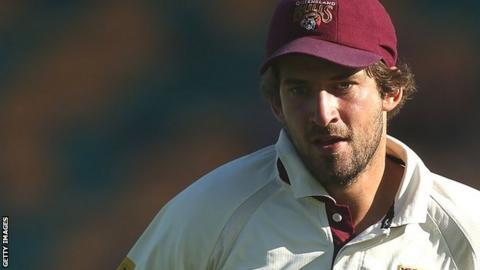 Australia A batsman Joe Burns says he would be "silly" to contemplate playing full international cricket before he proves himself with Leicestershire.
The 23-year-old was named the Bradman Young Cricketer of the Year in February and has been tipped as a possible late call-up for the Ashes this summer.
Burns is covering club captain Ramnaresh Sarwan until August.
And speaking to BBC Radio Leicester, he said: "You cannot get carried away with what could be."
Buns, who only made his first-class debut in February 2011, scored 114 as Australia A thrashed England Lions by 122 runs in Hobart in February.
But despite a second successive prolific season in Australian domestic cricket with Queensland, Burns says he is concentrating on his first taste of county cricket.
"I want to focus on getting my head down and contribute to a successful team," he added.
"You are silly if that is not your primary focus. That's all I can do personally and hopefully success will come from that.
"If you are making runs anywhere selectors will take notice. If you are playing well there will be opportunities but first and foremost you have to make sure you are making runs, getting your head down and putting in performances."
Burns, who is making his Leicestershire debut in the Championship game against Glamorgan which started on Tuesday, is relishing the chance to play in England.
"I've always followed county cricket closely and it's exciting to be a part of this," he said. "Leicestershire were keen to get me on board and I jumped at the chance.
"I am quite lucky in that in Queensland. I have Stuart Law and Darren Lehmann as coaches. It was fantastic to talk to them and to get an idea of how to play the game in England.
"Playing first-class cricket in different conditions is a big challenge and I am itching to get into it.
"It's so appealing to test myself in different conditions.
"I am looking forward to playing a large quantity of games in all three forms and to continuing to learn the game of cricket and different situations.
"I much prefer to be in England playing cricket in the off season than running up a hill in Brisbane trying to get fit.
"I started my career as more of a four-day kind of player. In the last few seasons I have tried to work hard on my limited-overs game and tried to adapt. I feel like the shorter form is a real strength.
"I enjoy all three forms and feel I have the ability to play in them all equally as well, but you constantly have to work on it."