Dimitri Mascarenhas to play in Guernsey Premier League
By Brent Pilnick
BBC South West Sport
Last updated on .From the section Cricket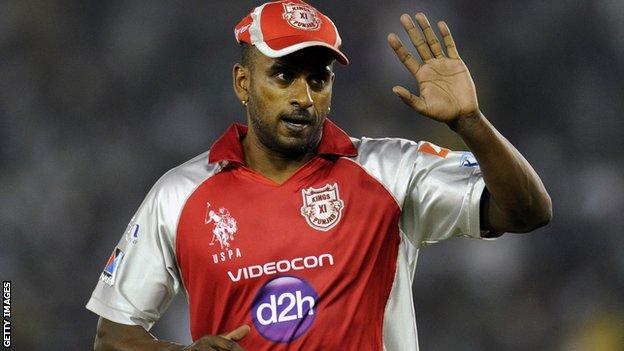 England limited-overs international Dimitri Mascarenhas heads the list of professional players for this summer's Guernsey Premier League T20 event.
He has also played in Australia's Big Bash and the Twenty20 Champions League.
Anthony McGrath, Darren Maddy and Will Beer are the other professionals in the event, which starts on 31 May.
"Dimitri's a T20 specialist renowned around the world," Guernsey Cricket Board chief executive Mark Latter told BBC South West Sport.
"He's got great experience in India, Australia and with England, so to get someone of his quality is remarkable."
Mascarenhas will play for reigning champions Mourant Ozannes, Sussex all-rounder Beer will be in BDO's squad, while former England players Maddy and McGrath will share the professional's duties at Cenkos Centurions.
The tournament has been reduced from four teams in 2012 to three this year, but Latter hopes the quality of the cricket will improve as a result, with the island players vying to places in the squad for the European Division One Twenty20 tournament in Sussex in July.
"The whole, point of this is to prepare our guys for Twenty20 cricket in an international competition," he said.
"In Dimitri, they're going to be playing alongside and against one of the best players in the world in that format, so if they can't learn anything form him there must be something wrong."
The involvement of Mascarenhas is down to the island's new director of cricket Nic Pothas,
"When Nic was interviewed for the job he did make reference to the fact he that when he was at Hampshire he had a big network of friends and would be leaning on them to come and do things over here.
"As well as Dimitri, the same can be said of McGrath and Maddy."
The three teams will have an auction of local players ahead of the tournament, similar to the one run by the Indian Premier League, meaning players will get the chance to face their usual club teammates and play alongside their rivals.