Sussex: Steve Magoffin reflects on 12-31 v Somerset
Last updated on .From the section Cricket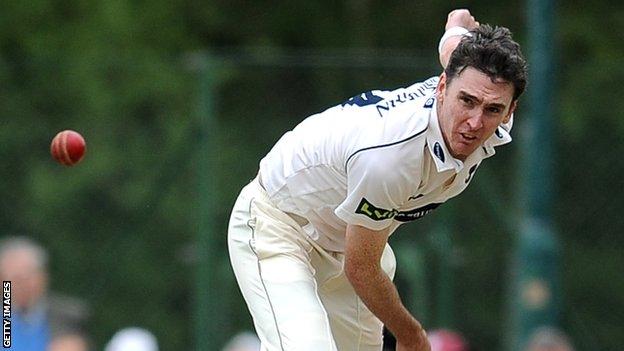 Sussex bowler Steve Magoffin says he has surprised himself with his match figures of 12-31 against Somerset.
"It might take a day or two to sink in. I'm thrilled with my performance the team performance was fantastic," the Australian told BBC Sussex.
"To win a four-day game in a day and a half is amazing really."
Magoffin's match figures are the best of any Sussex bowler since Mushtaq Ahmed took 13-225 against Worcestershire in 2007 and he has recorded the cheapest 10-for in the County Championship since George Tribe took 15-31 for Northants against Yorkshire in 1958.
"It was a wicket which had a bit of nibble in it on day one," Magoffin added.
"If you just hit the wicket hard there was always enough in it and it was still moving around a bit on day two.
"The ball moved around a bit but it was certainly not a minefield, as we showed when we were batting.
"The plan was to bowl into the areas I usually bowl in. I was lucky enough to get some wickets and some nicks."
Magoffin has now taken 28 wickets in four Championship matches this season at an average of 10.60, leading Sussex cricket manager Mark Robinson to describe the seamer as "an outstanding bowler".
"On any wicket he bowls well, but especially if there is something there," said Robinson.
"He is a low maintenance individual, gets his runs with the bat and leads the bowling attack by example. We have got a good one there.
"We leave him out of one-day cricket to try and protect him because of his age and history with sore knees."
Wrapping up the win so quickly was a boost for Robinson but he says his side, who are unbeaten in the four-day game this season, are high on confidence.
"It's a bit surreal," he added.
"We felt it was good conditions to bowl in and we knew there was a bit of juice in the wicket.
"Horsham can turn as the game goes on but we felt it was important to exploit the early conditions.
"Once we got given that opportunity through Somerset's decision on the toss we knew in Magoffin we have a fantastic exponent, backed up by two in-form seamers [in James Anyon and Chris Jordan].
"But I don't think any of us would have dreamt it would go as well as it did do.
"Mags is an outstanding performer on those types of wicket, with a bit of bounce and sideways movement. They nicked everything - they didn't play and miss repeatedly, they edged it.
"We are confident, buoyant and sometimes you get the rub of the green."
Magoffin joined Sussex last season, initially for the first half of the campaign, but then extended his stay until the end of 2013.
He took 57 first-class wickets last season.