Somerset: Marcus Trescothick 'devastated' by poor form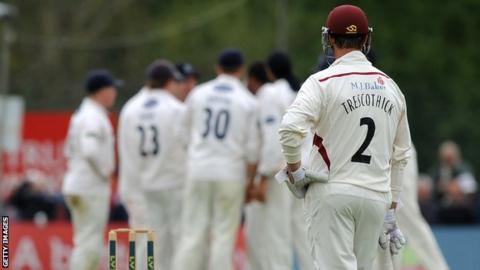 Somerset captain Marcus Trescothick admits he is dismayed by his side's disastrous start to the season.
The Taunton side's loss by an innings at Sussex leaves them winless in their six Championship games this summer.
"I'm devastated," Trescothick told BBC Somerset. "It's a hard situation to be involved in and I'm not understanding why we're playing like we are.
"We've got to find a solution. It's been going on for a couple of games and we've not been near what we expect."
He added: "But there's no easy answer. If I knew that we could put our finger on it and go from there."
The Division One side's poor four-day performances so far this campaign have not been reflected in their displays in the 40-over game where they have won all three of their matches.
And former England international Trescothick says he is baffled why his side's performances have not been up to scratch.
"There's no obvious thing that stands out," the 37-year-old said. "We've got a bit of work to do, and need to keep doing the good things.
"You go through good and bad spells, and at the moment it's a tough spell for us.
"It's not an easy performance (against Sussex) to take, and I'm quite embarrassed by what we've done. We've got to try and turn it around. That's all we can do."