Joe Root hopes maiden century leads to England win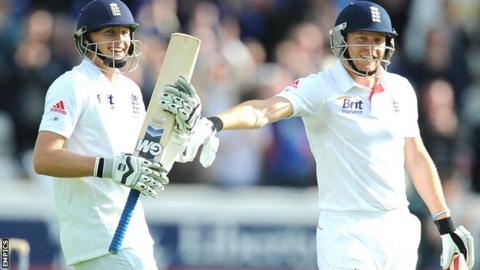 Joe Root hopes his maiden Test hundred can lay the platform for an England victory against New Zealand.
The Yorkshire batsman, 22, scored 104 on his home ground of Headingley as England reached 337-7 at the close of the second day of the second Test.
Root said: "It was pretty special, very enjoyable and I'm sure I will remember it for a long time.
"But more importantly hopefully it can contribute to something further down the line in this game."
In his sixth Test, Root added 124 in an entertaining partnership with his Yorkshire team-mate Jonny Bairstow (64) as England recovered from 67-3 at lunch.
After a couple of scares in the nineties, Root reached three figures with a boundary to third man, punching the air and jumping around in delight while soaking up a raucous reaction from the partisan crowd.
"Emotions took over and that was the result," he said. "I got lost in the moment a bit but you only get your first one once so I just tried to enjoy it."
The baby-faced Root, who admitted he sometimes struggles to get served in pubs, said he was furious with himself after succumbing to the first delivery with the new ball.
Bairstow and Stuart Broad soon followed, but England recovered via an unbroken 51 partnership between Matt Prior and Graeme Swann.
"I was disappointed to expose the new batters to the new ball, which is exactly what you don't want," said Root.
"We had just got a 100 partnership together and we knew the next 10 overs would be crucial so to get out at that point was very disappointing.
"But the guys batted extremely well to get another partnership together and hopefully we can continue that tomorrow and keep going."
Left-arm paceman Trent Boult, the pick of the New Zealand bowlers with 3-48, said he was disappointed his team let the initiative slip after his three quick wickets with the new ball.
"It's been a long day out on the field," he said. "I think we may have missed a bit of a trick not to get them nine down, but tomorrow morning we need to be patient and take those last three wickets, before making the most of a pretty flat wicket."