Nick Compton should start Ashes series as England opener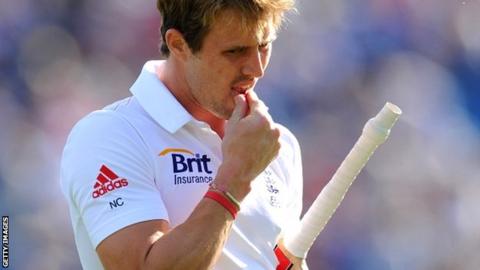 If there was debate after England's first innings at Headingley about the place of Nick Compton at the top of the order, his tortured innings and lame dismissal for just seven runs in the Sunday evening sunshine will only intensify it.
You might think the scenario as he walked out to bat was near-perfect for a batsman on a bad trot of form: the pitch benign, England with a huge lead and New Zealand's attack shorn of its most successful bowler in this match, five-wicket man Trent Boult.
From the outset, however, fate both conspired against him and seemed hell-bent on tormenting him still further.
At the other end, his partner Alastair Cook was off to a flier, served up all manner of short and wide or over-pitched deliveries that he could ease away to the boundary.
Compton was starved of the strike. When he did find himself at the right end, the intent and focus were obvious - the determination to get that front foot moving properly, to leave well, to play in positive fashion.
The form and the runs did not follow.
Those who know the man talk about a personality strong on self-analysis, intense in everything he does, hard on himself when he fails to achieve the standards or goals he has set himself.
All those characteristics can be of great advantage to a cricketer. They can also, when times are hard, lead to an awful form of self-paralysis.
Mark Ramprakash was one, Owais Shah another. You know they can bat. They know they can bat. But the desire to succeed becomes a noose around their neck.
Every batsman who has ever played the game has had a flaw somewhere, even if only the most minute of glitches. Not always are they technical. Sometimes the psychological imperfections can be as critical as the physical.
I remember watching Chris Tavare bat himself out of the England side in a Test against Sri Lanka back in 1984. So determined was he not to get out that occupation of the crease seemed to become his sole intention; when he was eventually dismissed, his body language and demeanour suggested he knew that it had been a pyrrhic pursuit.
It was a little like that watching Compton's dismissal against the part-time spin of Kane Williamson on Sunday. There was a big nick off the bat before the ball ballooned off pad to fielder, but he could barely tear himself away from the crease.
With England's next Test innings coming at Trent Bridge in mid-July with the first Ashes match, he must now do something in that long interim to put things right.
He will not be involved in England's Champions Trophy campaign, so he will return to Somerset. There is the County Championship match away to Derbyshire in mid-June, but far more importantly there is the game at Taunton against the very Australian attack he could expect to face in Nottingham.
The Australian fielders will be all over him. They will aim to burrow under his skin, to intimidate him, to inhibit him.
Would I pick Compton for that first, critical Ashes Test? Yes.
He has proved he can play, both with those two Test centuries in New Zealand last winter and in India before that. He has the technique, and he has the ability. What he needs to rediscover is the self-belief.
Let's turn it round. If you were to drop Compton, how would you replace him? I see no ready-made replacement in county cricket who is guaranteed to do any better.
You could move Joe Root up. Equally, he has had problems facing the new ball in his nascent Test career. Why risk him there when he is playing so well down the order?
You could reshuffle the batting order. You could move Jonathan Trott up to open, and push Ian Bell to three. But why would you risk losing England's most successful number three in a generation?
I would give him at least two Ashes Tests. If he fails again, he has to go. But for now, back him, and back him publically. Let him be confident in his place. Let him know he can flourish.
There were those at Headingley who would rather Compton had not been given the opportunity to bat again, who would have liked Cook to enforce the follow-on when New Zealand were dismissed at tea for just 174.
I believe the captain made the right decision.
It's easy to suggest that Cook has been tentative. But there is still so much time left in this match, and there was precious little swing for his pace attack on Sunday.
His most effective bowler, Graeme Swann, benefitted from the foot-holds left outside a right-hander's off stump by New Zealand's left-arm bowlers. So why not let those same bowlers chew up the pitch still further, presenting Swann with even more turn and purchase than he found with his four wickets on Sunday?
England would almost certainly have still won the game had they enforced the follow-on. Yet Swann could be bowling by lunchtime on Monday anyway, and the weather forecast for that fourth day is now good.
Cook's decision was a pragmatic one. It is also one which is likely to be justified by an England win at some point over the remaining two days.
Jonathan Agnew was talking to BBC chief sports writer Tom Fordyce.