England tactics were puzzling - Jonathan Agnew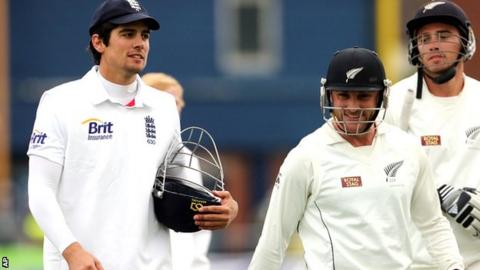 There is a central conundrum about England's decision to bat on into the afternoon session on Monday which does not quite add up.
At lunch on this fourth day they had a lead over a dispirited New Zealand of 429, a margin so vast it would have required a world record-breaking chase - and this New Zealand side are no record-breakers.
Therefore, the only reason to bat on, as captain Alastair Cook opted to do, was to stockpile sufficient runs that he could set ultra-attacking fields when the tourists eventually came out to bat.
That is a legitimate tactic, and one that he could easily justify. But it ceases to be legitimate if you then instead set the sort of quasi-defensive field you might require for a lead closer to 280 or 300 - and for much of Monday afternoon and evening, that is exactly what England did.
Graeme Swann, so dangerous in the first innings, had just a slip and short-leg in the majority of his long spell either side of tea.
Steven Finn, the most likely bowler to find steep bounce and pace, at times had only a gully and solitary slip in place.
It is one thing to err on the side of caution. Equally, Test wins have to be earned. They are seldom handed to you on a plate.
Right at the start of New Zealand's innings, with the target a monstrous 468, England pushed a man back to sweep on the cover point fence when Hamish Rutherford was facing Stuart Broad.
If you are leaking runs as a team pursues an achievable target at pace, a field placing like that makes sense. When they are facing a summit that has never before been surmounted in 136 years of Test cricket, it does not.
Who was responsible for the tactics? Usually a captain will allow his bowler to set the field, while exercising overall control and maintaining the authority to step in if he sees fit.
From that one must assume that it was Broad's decision to have that man sweeping in the deep. One must also expect his captain to have a quiet word and insist that the field remains more attacking.
Rutherford was instead given the opportunity to take an easy single, at exactly the point when England should have been attacking hard, applying pressure, enforcing their dominance.
It allowed the momentum to drift away from the home side, something which was exacerbated by a lack of energy and zip in the field and fed into a lassitude that gripped much of the cold, half-empty Headingley stands.
In the morning session England had done everything right, adding 133 runs at the pace they should have aspired to during that slow trudge on Sunday evening. A declaration at lunch, leaving them a nominal five sessions to bowl out a team dismissed in just 43 overs the previous day and 23 overs last week, would have brought little dissent.
Even when England ploughed on after the interval, batsmen sacrificed themselves - and their averages - in pursuit of quick runs for the team's overall aims.
That is exactly what you would expect. But the bowlers then had to follow suit; you cannot be worrying about the possibility of having runs scored off you if it means the team has a greater chance of taking wickets and sealing the win.
The ball does not have to be swinging or seaming for a batsman to edge a ball. Chances will come, and when they do you need the men in the positions to take them.
It can be very easy, up where we sit in the commentary box, to make calls like this. I appreciate that it can feel different down on the pitch, or in the dressing room. Players are aware that their decisions carry a responsibility that ours do not.
Cook may not appear to feel the pressure of Test batting or captaincy, but I'm sure he does. It is also very early days for his captaincy, and for our monitoring of it. Andrew Strauss was also not a particularly adventurous skipper; his successor may yet learn the art of gambling, or mixing things up, that the best leaders have in the field.
Cook also deserves our praise and admiration for his remarkable displays with the bat in his short reign.
In 11 Tests he has now scored seven centuries, a wonderful return and a reflection of his status as a truly special player. But I think he will reflect, in time, that he has been rather too cautious here in Leeds.
England in the field on Monday did not always look like a team chasing victory.
With a 180-run lead after their first innings and the best spin bowler in the world getting sharp turn out of the foot-holes, they should have won this game comfortably. They may well still do so.
Yet there will be a lot of fingers crossed that the weather on Tuesday stays dry enough to give them the time they require to take the remaining four wickets. And had they been playing Australia rather than New Zealand, there would be even more of a stink about these tactics than there might be now.
Jonathan Agnew was talking to BBC chief sports writer Tom Fordyce.