Jonathan Trott defends England approach at Headingley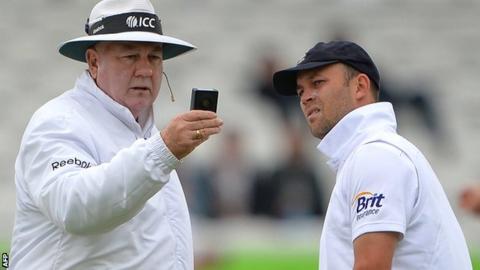 England batsman Jonathan Trott defended some cautious tactics from the team in the second Test against New Zealand.
They did not enforce the follow-on and delayed declaring until the Kiwis required an improbable 468 to win.
New Zealand closed day four on 158-6 but with heavy rain expected on Tuesday the tourists may escape with a draw.
"I think we got it spot on," said Trott, who made 76. "We set out to get the total we wanted and achieved it in the time we wanted."
Trott shared 134 with Alastair Cook and completed his 16th Test half century.
"We're in a good position. Hopefully we'll get a couple of hours of play and do the business," he said of the prospects for Tuesday's final day.
A washout would deny England the chance to complete a 2-0 series sweep, but Trott insisted the hosts were right not to let the forecast influence their approach.
"When you are 1-0 up you can afford to let the game take its course," he added.
"You don't let the weather dictate how you play the game. When you are on top you want to stay on top and make it difficult for them batting last.
"To get six wickets is a good day of Test cricket. We need four wickets to win the series and win a Test match."
Trott was criticised by former England batsman Geoffrey Boycott for his negative approach on Sunday night when he scored only 11 runs off 69 balls.
Speaking on Test Match Special, Boycott suggested England's manner of play was motivated by a desire to give their batsmen a last Test innings before the Ashes series in July.
"When Trott says you can't play the game according to the weather, that's twaddle," said Boycott. "Look at the history of the game in England, we get more rain in the north.
"Most people would have put them in again, but I think they just wanted batting practice.
"They should win in a couple of hours tomorrow, though they could have won quicker if they'd been more ruthless."
New Zealand batsman Ross Taylor, whose 70 held up England's victory push on Monday evening, said the tourists were hopeful of being saved by the rain.
"England are in the box seat; we need a bit of help so we will have to wait and see when we pull back the curtains in the morning," he said.