Glamorgan keen to extend fast bowler Michael Hogan's stay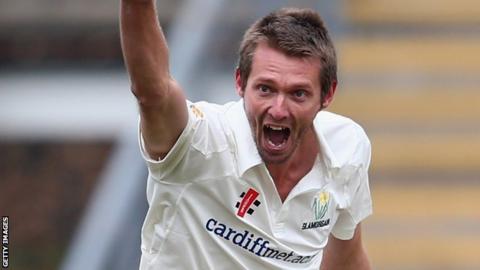 Glamorgan are keen to extend the contract of fast bowler Michael Hogan.
Hogan, 31, has made an immediate impact since singing from Western Australia, taking 33 first-class wickets already.
Those include equalling a career-best 6-70 in the County Championship Division Two defeat against Essex.
"Michael's with us for two seasons and we've agreed that we would sit down after a few months and work out if he was happy with the UK," said Glamorgan chief executive Alan Hamer.
"We're keen to try and keep him a bit longer. He's a great guy to have in the squad, very committed, hard-working and he's done well.
"But I'd say he's one of four or five bowlers that have bowled well in unison this year and the reason we've done so well this year is we're applying pressure from both ends and no team is getting easy runs against us."
Hogan is Australian-born but has given up that national qualification to take up a British passport.
Hamer says he is pleased with Glamorgan's start to the season, which sees the Welsh county in third place in Group C of the Yorkshire Bank 40 and competitive in the County Championship Division Two.
"We've started the season well and we've come close in a few games where with a bit more luck we would probably had another couple of victories," Hamer added.
"But certainly the important thing is our performances have improved considerably since last year, that's important moving forward.
"For us to become a successful county it doesn't happen overnight, you need to start putting in good performances.
"We've played very well in the 40-over this season so far and in the Championship there was a because of the weather and a narrow defeat against Lancashire in Colwyn Bay.
"Had those two gone our way we would probably have been sitting either top or second at the moment, so we're very happy at the moment but the important thing is to maintain our good form."