Pakistan captain Misbah-ul-Haq backs Irish bid for Test status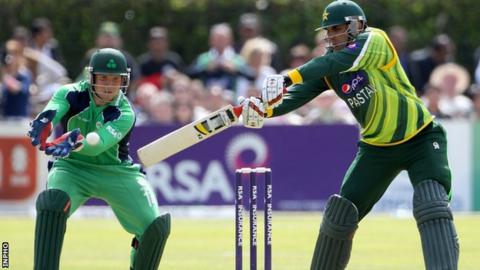 Pakistan captain Misbah-ul-Haq has given his backing to Ireland's bid for Test status.
His support comes after before
"That's purely on the ICC but they are a better team now so the ICC should think about that," said Misbah.
"We were really struggling. If you look at their batting line-up that is good enough to do well anywhere."
He added: "They may struggle a little bit with their bowling line-up when they go out of Ireland but still they are a really mature side."
After the opening match ended in a dramatic tie, Ireland looked set to claim a first series win over a full member when Pakistan crashed to 17-4 chasing 230 at Clontarf on Sunday.
It took a stunning counter attack from eighth-wicket pair Kamran Akmal and Wahab Riaz, who crashed 93 from 62 balls, to deny them a famous triumph by just two wickets.
Ireland have long been the stand-out country amongst the associate nations, pulling off famous 50-over wins against Pakistan and England at the past two World Cups.
Despite that, Ireland must first meet the ICC rationale for earning promotion which, as well as on-field results, requires off-field structures to be cemented.
The introduction of a professional domestic league this season has been one major step in that direction with Cricket Ireland chief executive Warren Deutrom determined to meet the ambition of the young players who are now emerging from the Irish system.
"We must show our aspiration to these players that we want to aspire to the pinnacle of the game which is Test cricket," he said.
"That is what players aspire to and we must replicate that and provide them with a pathway to show that is what we are trying to do.
"We have been at the top of the tree in the associate countries for five or six years now. We can't afford to just be happy with that and continue on.
"There is no point in us slapping each other on the back and turning the lights out and saying well done.
"We are an associate nation which is still regarded as second best. We don't want to just be second best."