England and New Zealand resume after rain delay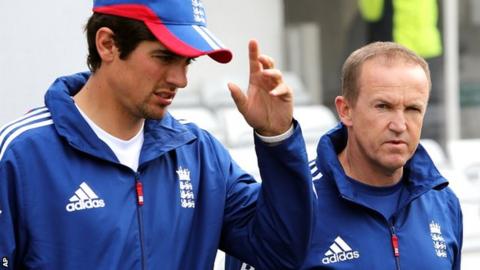 The final day in the final Test between England and New Zealand began at 11:45 BST after a 45-minute rain delay.
Play was delayed after light rain lingered at Headingley but it cleared to allow some watery sunshine.
However, further periods of rain and bad light are expected in the Leeds area during the afternoon.
Bad light ended day four with New Zealand on 158-6, a distant 310 short of their victory target, after England declined to enforce the follow-on.
Umpire Steve Davis explained that it was the groundsman's decision to remove the outer covers for a spell earlier in the day.
The Australian official said: "He said it was a bit lighter so he wanted to do a bit of work, so we've left it to him. There is still some rain around so we want to make sure it's stopped before we start.
"It's purely down to us - the safety of the players will determine when play will start.
"We have two different light readings, slightly higher for faster bowlers, but eventually last night it became too dark."
England could have made New Zealand bat again when the Kiwis were bowled out 180 runs behind on Sunday, but chose to bat on until after lunch on Monday.
BBC Weather's Ben Rich said: "It's particularly awkward one for us, Headingley is on the edge of things for today.
"There is heavy rain in parts of the Midlands and north-west England, and at the same time in east Yorkshire there is some sunshine.
"Headingley is on the dividing line and that is going to continue to be the case.
"A drier spell at the moment but patchy rain this afternoon and more dry spells, the question is how long does it dry up for and how good is the light?"