England v New Zealand: Alec Stewart's England player ratings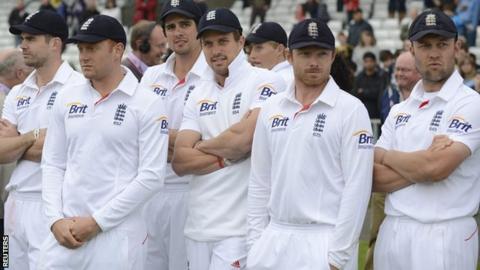 England achieved exactly what they set out to do by beating New Zealand 2-0 in this Test series.
The team looks in good working order for the Ashes, although one or two players will know they did not perform at their best against the Black Caps.
Here are my series player ratings, with seven a par score.
ALASTAIR COOK - 7/10
Batting: 4 innings, 217 runs (average 54.25), highest score 130, 1 century, 3 catches
Cook struck an outstanding 130 at Headingley to remind us of his world-class pedigree, but he will be disappointed that in his other three innings he got starts without being able to convert them into something more substantial. As far as his captaincy is concerned, I did not object to his not enforcing the follow-on at Headingley, but I was disappointed by the slow play from Nick Compton and Jonathan Trott on the third evening when, with positive intent, they could have taken day five out of the equation.
NICK COMPTON - 2/10
Batting: 4 innings, 39 runs (av 9.75), HS 16
After back-to-back hundreds in New Zealand, many people thought Compton was going to be the real deal. These two Tests, however, have shown that his credentials at Test level remain unproven. He did a lot of the hard work in seeing off the new ball but failed to impose himself on the opposition in any of his four innings. The next six weeks of county cricket are huge for Compton if he is to feature in the first Ashes Test, but he needs to free his mind up and take the game to the bowlers without being reckless.
JONATHAN TROTT - 7/10
Batting: 4 innings, 199 runs (av 49.75), HS 76, 2 fifties, 3 catches
Trott has had a consistent series without posting a really influential score. His fifties in both Tests underlined his class and importance to the team at number three but I would like to have seen more intent from him on Sunday evening at Headingley to help enable an earlier declaration. He never quite got out of first gear when England needed him to get into the fast lane. He is a vital member of the batting line-up and is England's unsung hero.
IAN BELL - 4/10
Batting: 4 innings, 73 runs (av 18.25), HS 31, 5 catches
I am still Bell's biggest fan but I want to see him getting back to scoring big runs. He is one of England's most experienced players and now is the time for him to kick on in the second half of his international career. We can put his failure in the second innings at Lord's down to illness but all in all I would have expected more.
JOE ROOT - 9/10
Batting: 4 innings, 243 runs (av 60.75), HS 104, 1 century, 1 fifty
What more can we say about this young batsman? He is an outstanding prospect and showed in both Tests that he has a maturity that belies his tender years. I would have given him man of the match at Lord's because he scored runs in difficult conditions but he then went one better at Headingley with his maiden Test hundred. It will not have gone unnoticed that Root got out twice to the second new ball and I think he should be kept in the middle order while he continues to develop as a Test cricketer.
JONNY BAIRSTOW 7.5/10
Batting: 4 innings, 136 runs (av 45.33), HS 64, 1 fifty
Bairstow was England's top-scorer and last man out in the first Test at Lord's for 41 and put on an excellent partnership of 124 with Joe Root at Headingley. He has given the selectors food for thought when they come to complete their team for the opening Ashes test, assuming Kevin Pietersen is fit to return.
MATT PRIOR - 4.5/10
Batting: 4 innings, 43 runs (av 14.33), HS 39, 6 catches
Having just been voted England's player of the year, Prior had a game to forget at Lord's as he bagged a pair and dropped a catch, but he showed at Headingley with his positive 39 and secure glovework that his performance in the first Test was a mere blip.
STUART BROAD - 8.5/10
Batting: 3 innings, 26 runs (av 13.00), HS 26 not out. Bowling: 12 wickets (av 15.91), best bowling 7-44, 1 catch
Broad's opening burst in the second innings at Lord's was as good a new-ball spell as he has bowled. He also weighed in with four wickets at Headingley to prove he is a handful for any international batting line-up. The game revolves around the top of off stump and Broad was rewarded for his consistency in line and length. However, I want to see more from him with the bat in his hand because his runs down the order have proved invaluable for England in the past.
GRAEME SWANN - 9/10
Batting: 3 innings, 32 runs (av 16.00), HS 26 not out. Bowling: 10 wickets (av 15.10), BB 6-90, 1 catch
Swann was hardly required at Lord's and was not expected to be so central to proceedings at Headingley. But he showed his world-class talents in posting the best figures by a spinner on the ground since Derek Underwood in 1972. He exploited the rough left by the left-arm seamers to get right-handers out both through the gate and via the outside edge, which shows his range of skills.
STEVEN FINN - 7.5/10
Batting: 3 innings, 16 runs (av 5.33), HS 6. Bowling: 8 wickets (av 20.12), BB 4-63, 2 catches
Finn has been slow out of the blocks at the start of the season but is now finding his form and confidence going into the second half of the summer. As he showed at Headingley, his height and pace allow him to bowl the occasional X-factor delivery, as Dean Brownlie discovered to his cost in New Zealand's second innings.
JAMES ANDERSON - 8/10
Batting: 3 innings, 7 runs (av 3.50), HS 7 not out. Bowling: 9 wickets (av 14.55), BB 5-47, 1 catch
Anderson once again proved he is the complete swing-bowling package with his performance in joining England's 300-wicket club at Lord's. Despite an indifferent record at Headingley, he still played an important role within the three-man pace attack and took the crucial last wicket on Tuesday afternoon. At this rate, 400 Test wickets are easily within his grasp.