Hampshire hopeful of George Bailey return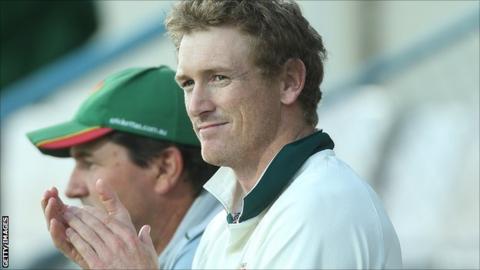 Hampshire captain Jimmy Adams says the county have not ruled out Australian batsman George Bailey returning to the team later in the season.
Bailey has now linked up with the Australia's Champions Trophy squad for the tournament which starts on 6 June.
But Adams says both he and manager Giles White have had meetings with Bailey about his potential return.
"If there is an opportunity, it would be great to have him back," Adams told BBC Radio Solent.
Bailey has scored 263 runs in the County Championship at an average of 37.57, while in the YB40 competition he has managed just 46 runs in three innings.
"Whether we can get him back some time in the future would be great," added Adams.
"We just need to sit down with him and have a chat and work out how things are looking.
"We've spoken to George about potential options after the Champions Trophy so we'll see what pans out."
Meanwhile, Adams says Pakistan pace bowler Sohail Tanvir could play more for the county than just the T20 games as he is originally contracted for.
Tanvir has yet to gain the necessary visa but his agent Umran Khan told BBC Radio Solent two weeks ago that the 28-year-old would, all being well, have arrived by now.
Tanvir has appeared in 50 one-day and 28 T20 internationals for Pakistan but was left out of their 30-man Champions Trophy squad.
"Sohail will arrive at some point," added Adams. "We signed him principally for the T20 but there is the option to play him in the other games.
"We didn't envisage him getting here for next week."
Adams also told BBC Radio Solent the county are not 100% sure Pakistan spinner Saeed Ajmal will be playing for them later in the year.
The 35-year-old was due to be one of the side's overseas players during August and September when Bailey is likely to be involved in Australia's Twenty20 squad against England.