Jonathan Agnew: Tetchy England show signs of tension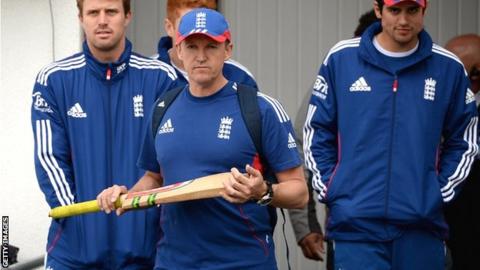 The tension that seems to be engulfing the England cricket team at the moment was in evidence from the moment I arrived at Headingley on Tuesday morning.
It was obvious that England were anxious about the flak they would face for potentially throwing away an easy victory, and were desperate to get out there and finish New Zealand off.
Team director Andy Flower was out in the middle remonstrating with the officials to get the covers off and the players and training staff were warming up on the outfield long before the announcement that play would begin.
In the end, England were fortunate that they had enough dry interludes to win the game and complete a well-deserved series victory, but the atmosphere afterwards remained a bit too defensive and prickly for my liking.
Flower gave an interview to me at the end that was curious to put it mildly. He challenged perfectly acceptable questions about the team's performance and seemingly refused to accept that my line of inquiry was a genuine one.
After Jonathan Trott was similarly tetchy in his post-play interviews on Monday, I just hope that the England camp are not developing an unhealthy antipathy towards the media.
If they are feeling the pressure in the run-up to the Champions Trophy and Ashes, it is perfectly understandable but this irritable attitude will not help their cause.
Hopefully, a dose of one-day cricket will help them to shrug off this tetchiness and get them in a positive frame of mind for the Ashes.
On the field, the biggest positive from the second Test was seeing Graeme Swann take 10 wickets on his return from elbow surgery.
You can be told 100 times by physios and doctors that you are fit, but you can only convince yourself by getting out there and performing and Swann will be delighted to know that he has recovered.
Steven Finn, meanwhile, bowled with more consistency in this match than he had in the first Test at Lord's, showing real venom allied with his pace and accuracy.
All of England's bowlers were assisted by captain Alastair Cook's belated decision to go on the offensive on Tuesday afternoon, with almost everyone in close catching positions around the bat.
New captains are entitled to be cautious. You need confidence to make decisions outside your comfort zone.
But now that Cook has set attacking fields and seen it work, let's hope he will have the courage to do it again when the stakes are even higher.
Indeed, in years to come Cook may look back on this match as the time that he learnt that you can and should be adventurous in Test cricket when you are in the ascendancy.
England will play better teams than New Zealand and they need to develop that streak of ruthlessness that was conspicuous by its absence at times in this match.
As for the tourists, they have a fine, young seam bowling attack who were excellent in these early-season English conditions, but their batting let them down.
They are a nice team to watch - hardworking and talented - but they just need to unearth another batsman or two if they are to start climbing the Test rankings.