Alastair Cook says England tactics were right against New Zealand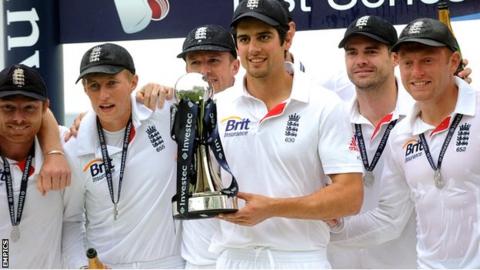 Alastair Cook backed his tactics after England had to wait late into a rain-hit fifth day to take the final four wickets needed to win the second Test.
Cook had set New Zealand an impossible total of 468 for victory but his side were almost thwarted by bad weather and light on a gloomy final day.
He said: "There are lots of different ways of attacking - you don't always have to crowd the bat.
"There are many different ways of skinning a cat."
The skipper added: "If you're nit-picking, with that last 45 minutes on Sunday you could say we could have pushed on.
"But as a captain you are judged on your results. The result vindicates the decision."
England's slow batting on Sunday evening had come in for criticism after they had opted not to enforce the follow-on despite a first-innings lead of 180.
When they finally declared on Monday it was well into the afternoon session, and the defensive fields set at times despite their vast lead and the indifferent form of the visitors' batsmen drew further questions.
But Cook said: "Tactically, we wanted some more wear into that pitch and you saw that quite a few balls misbehaved, the rough getting deeper and deeper, and I think that proved pretty good tactics.
"We wanted to bat New Zealand out of the game. We were 1-0 up in the series, and we didn't want to give them a sniff. Series wins don't come round every day.
"To win by 250 runs is a big win, in what was three and half days of cricket.
"I was a little nervous looking out of the window this morning. When there is a bit of rain, Leeds normally gets a fair bit of it. But we just needed two hours or so, and we got it in the end.
"It's great to win 2-0. They were two good performances. I think we played better in this game than we did at Lord's."
Cook paid tribute to off-spinner Graeme Swann, whose six wickets in New Zealand's second innings did so much to seal the match for England.
Swann found significant turn from the foot-holes left by the tourists' left-arm seamers and took the wicket of four of the top six batsmen.
He then ended the dogged resistance of Doug Bracewell as play finally resumed mid-afternoon after a long delay, before James Anderson dismissed last man Trent Boult to seal the win as rain again threatened.
"We all know how good a bowler he is," said Cook. "He doesn't need the help from the footmarks but when he gets it he's nigh-on unplayable."
Swann, in his first Test series since returning from elbow surgery, admitted his performance here - the first 10-wicket Test haul by a spinner on this ground since Derek Underwood in 1972 - had given him a significant boost before the Ashes.
"I know we're not allowed to say the 'A' word, but to get a few wickets is good for my self-esteem," he said.
"You can't over-emphasise the importance of confidence for a bowler. It takes a few wickets to believe you're back to your best, and the manner of those wickets helped me too - the fact the ball was lifting and turning was good to see.
"Bowling people through the gate normally only happens when you're playing well."
For New Zealand's captain Brendon McCullum, there was only frustration after his side failed to build on the promising displays they put together in the recent drawn series at home.
He said: "The gulf between the two teams was exposed in this Test match. England flexed their muscles and we weren't able to respond.
"England are a formidable team at home in these conditions. We have the bowling attack to take wickets, but we couldn't get the runs from our batsmen to get the big score we needed.
"We're disappointed as we had high hopes after a great series at home, but England put us under pressure and we weren't able to respond.
"We made some strides forward as a batting group at home, but we've taken steps backward here. Our bowlers have been outstanding, but our batters still have work to do, both individually and as a group.
"We have the making of an excellent team and while this is a step back, we have guys who can in 18 months be a pretty decent team."