Allan Lamb: Northants legend joins club board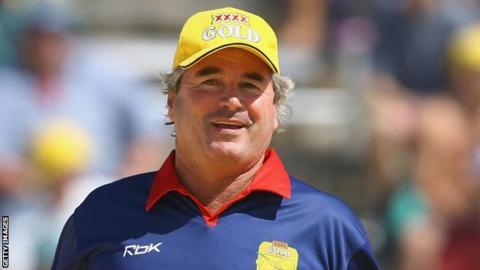 Former England captain Allan Lamb has been appointed to the board of Northants, the club he represented for 18 years.
The South Africa-born batsman, 54, played 79 Test matches and 122 one-day games for England.
"The new CEO David Smith wants to go places," he told BBC Radio Northampton.
"He's an ex-cricketer I played against. I know his direction. I always want to be with winners and that's the direction I see this club going."
Lamb joined Northants as an overseas player in 1978 and, with South Africa banned from Test cricket because of apartheid, he decided to play for England as both of his parents were English born.
A middle-order batsman, Lamb captained the national side in three Tests, won the Ashes in 1985 and in the 1986-87 series in Australia, before ending his five-day career with an average of 36.09.
He hit 20,128 runs for Northants and still resides in the county.
"The club asked me to come on board in an ambassador role, seeking a bit of advice on cricket matters and maybe getting in some sponsors," added Lamb.
"Northants needs to find lots of sponsors like Northampton rugby club has. If we're going to be successful we need the companies of Northampton to support the club.
"If the coaches want some advice about the cricket I cam give them advice."
Vice chairman Gavin Warren said: "I'm delighted to welcome Allan to the Board, his cricketing experience and international network of contacts will greatly benefit Northants cricket.
"Since finishing playing first-class cricket, Allan has remained living in Northamptonshire and his undoubted passion for the club will assist us as the club seeks to continuously improve its performance both on and off the cricket field.
"Allan has been currently assisting the club in an ambassadorial role."