Kent: Jamie Clifford cautious about overseas signings
Last updated on .From the section Cricket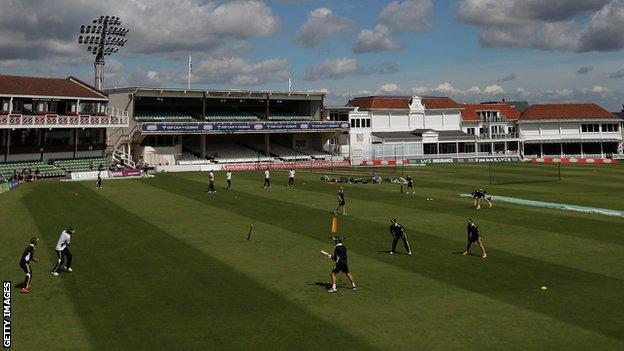 Kent chief executive Jamie Clifford says they will be cautious about bringing in any overseas players.
West Indies batsman Brendan Nash has recently registered as a Kolpak player, leaving the Canterbury outfit with leeway to make another signing.
Clifford told BBC Radio Kent: "It is a difficult thing to get right. For every pound we spend as a club, we expect to see a certain return.
"I don't think we will pay silly money for overseas players."
He added: "It is not as easy as you might think really.
"If we can find the right player, with the right availability at the right asking price [the club will sign them].
"There are some silly prices being asked for [players who are] not the top class of cricketer."
Nash's Kolpak registration means Kent could bring in a new overseas player for the County Championship, while two players could be signed for the FL t20 campaign.
Clifford says he would rather see the club nurture the young talent they have in the squad than signing an overseas player for the sake of it.
"We have got a lot of young players who we want to see play and have long careers with Kent," he said.
"One of the factors that will slow down their development is if there are spots taken by a second-rate player from somewhere else.
"It is quite parochial but an important point for us. We have got young talent that we want to find space for and that is one of the considerations as well."
However Clifford says the county will continue to keep their options open, having not yet signed any overseas player for their FL t20 campaign.
"I know people like certainty but I don't really think there is the necessity to say we are or we aren't going to have an overseas player," he said.
"Our view has been to keep our options open and let's do what's right at any given moment in time. You could have an injury crisis which meant we had to go into the market.
"I'd much rather take it on a week-by-week basis rather than be definitive. It should be fluid situation.
"We have had players come in for Twenty20 or other parts of the season which we have turned around in a week. That option is always there."