Derbyshire: Chris Grant says club punch above their weight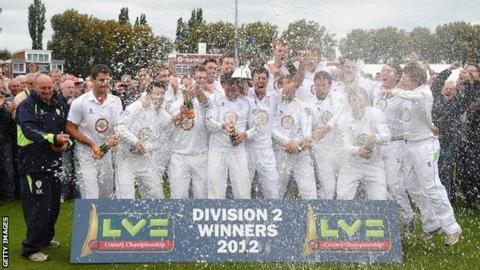 Derbyshire chairman Chris Grant says the financial disparity between the haves and have-nots in county cricket means nearly every match they play is a "David versus Goliath" encounter.
But the club have received praise from England and Wales Cricket Board chief executive David Collier for their off-field strategy and planning.
And Grant told BBC Radio Derby fans must believe in their long-term vision.
"I want to say stick with us because we're playing a bit of catch-up."
Last year's Division Two champions have struggled so far this campaign, failing to win in the four-day game and securing just one victory in the YB40.
Grant added: "Every time we go out to compete it is a David versus Goliath battle and we are not going to narrow that gap overnight.
"Most First Division teams have at least £500,000 more to spend on their playing staff than we do - and some of them have £900,000 to a million more."
Collier has said that Derbyshire "are totally revitalised on and off the pitch" and that there is "no better example" of a county thinking about what they can do to take themselves forward.
"It's great to receive some recognition from the top about what we are doing off the field," Grant added. "David Collier has been singing our praises which is great news.
"There is a salary cap in cricket which is £1.8m so there isn't the massive differences between the have and have-nots you see in some other sports.
"But we still have a lot of work to do to make up that gap and make sure we put out competitive sides.
"The main thrust of the strategy is to back our home, locally produced players and are able to keep them
"But also we need, where we have gaps, to give the resources to augment that by buying in players like Shiv Chanderpaul.
"Financially we are very well placed; we have no debt. and even if we finish bottom of the table in the first division, we will be half way in the first-class counties in terms of performance."
However Grant said bridging the gap to the other non-Test counties means improving attendances, generating more match-day income through catering and hospitality and increasing profit from sponsorship.
"We have to get more people into the ground," Grant said. "We need more bums on seats and need to make it a more attractive place to come.
"Membership is one thing, there is catering and hospitality and then the big area is sponsorship and advertising - and we have made great strides in that area.
"If we narrow the gap on these three areas non-Test match playing counties best of the rest that would give us around £750,000 to invest in the playing side so we have a team that can genuinely compete."