Sussex: Mark Robinson bemoans county schedule after late finish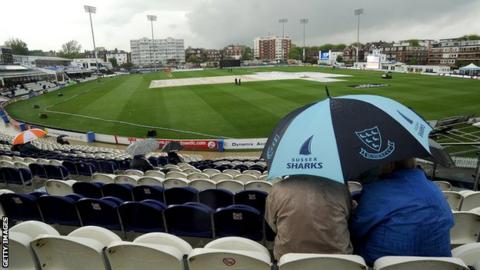 Sussex cricket manager Mark Robinson has criticised the scheduling of the county calendar.
Sussex's televised YB40 game against Warwickshire finished at 22:55 BST on Thursday, with the side back in action in the County Championship on Friday, with a midday start.
"It's absolutely ludicrous to ask the players to be mentally right to play a four-day game," he told BBC Sussex.
"It is ridiculous. They should stop doing this."
The match against Warwickshire at Hove was due to start at 16:40 BST but was delayed by rain and finally got underway at 19:30 BST, with each innings reduced to 21 overs.
After a late finish, Robinson said it would be tough to get his side ready to host Nottinghamshire in their Division One match.
"We will have to dust ourselves down, get what sleep you can and come out fighting," he said.
"You need to show the right type of mental strength.
"It will be a test as the boys probably won't get to sleep until about two o'clock in the morning."
Sussex lost the match by eight runs, leaving them third in the YB40 Group A table, with two wins and two defeats from their six matches.
"It was a good game and a great wicket, with a bit of moisture giving it some pace and carry," Robinson said.
"We were probably ahead in the game and came out behind in the end.
"They did better than us at the death of the match when they batted and got away a little bit. We weren't able to match that."