Indian cricket chief steps aside amid IPL spot-fixing investigation
Last updated on .From the section Cricket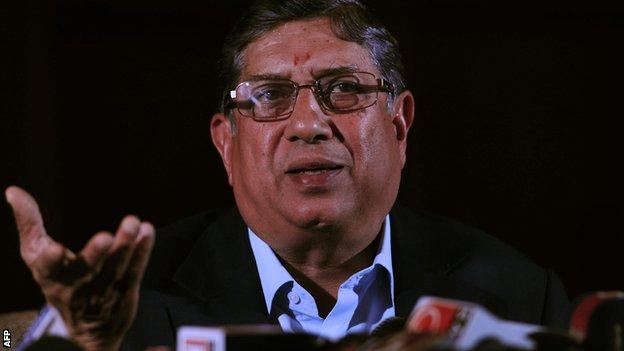 Indian cricket chief N Srinivasan will step aside from his role until an investigation into allegations of spot-fixing in the Indian Premier League has been completed.
Srinivasan, president of the Board of Control for Cricket in India (BCCI), has so far resisted calls to resign.
His son-in-law and Chennai Super Kings official Gurunath Meiyappan is among those to have been arrested by police.
India fast bowler Shantha Sreesanth is one of three players arrested.
The BCCI held an emergency meeting in Chennai on Sunday to address growing criticism of the board, and Srinivasan in particular, in the wake of spot-fixing allegations in the IPL.
"N Srinivasan announced that he will not discharge his duties as the president till such time that the probe is completed," the BCCI said on its official Twitter account.
"Mr Jagmohan Dalmiya will conduct the day-to-day affairs of the board."
On Saturday, IPL chairman Rajeev Shukla resigned from his position.
In the last fortnight, three bowlers from the Rajasthan Royals team - Sreesanth, Ajit Chandila and Ankeet Chavan - have been arrested as part of the police investigation.
Last week, Sreesanth insisted he was innocent. The families of the other two have also denied the allegations.
The players have been suspended by India's cricket board and their IPL team.
Spot-fixing involves illegally rigging parts of a match, for example by timing the delivery of a deliberate wide or no-ball, to benefit bookmakers or those betting on matches.