Mohammad Ashraful: Bangladesh batsman sorry for 'wrong-doings'
Last updated on .From the section Cricket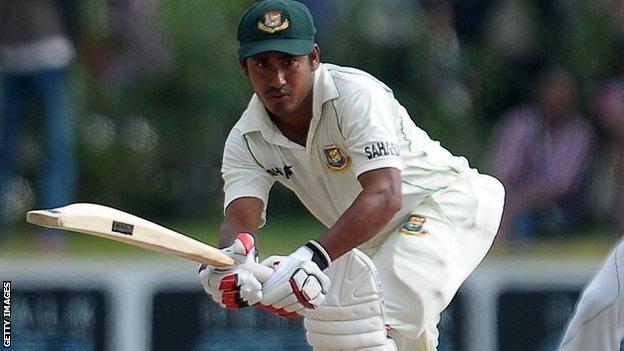 Former Bangladesh captain Mohammad Ashraful has apologised for his actions as an investigation into allegations of corruption in his country's national Twenty20 competition takes place.
The 28-year-old has been suspended from playing for Bangladesh while an International Cricket Council (ICC) report into the claims is finalised.
"I seek forgiveness from all of you for all the wrong-doings that I have committed," said Ashraful.
"I am ashamed of what I have done."
He added: "I have come clean to the ICC investigating team and co-operated with them completely."
No details about the "wrong-doings" Ashraful has apologised for have been made public.
Allegations about matches in this year's Bangladesh Premier League follow claims of spot-fixing in the Indian Premier League.
The ICC's Anti-Corruption and Security Unit (ACSU) was asked by the Bangladesh Cricket Board (BCB) to monitor the second edition of the BPL.
The tournament was held in February and March this year and the ACSU has been investigating what are described as 'suspicious' games as well as individual behaviour.
BCB president Nazmul Hassan expects to receive the ICC's report within a week.
''We cannot take action against Ashraful before the report and evidence are finalised, but since he has admitted to fixing we think he should not play any cricket for the time being,'' said Hassan.
''The investigators have interviewed a lot of people in Bangladesh and elsewhere, they just have one more interview pending."
Hassan would not discuss Ashraful's case in detail as he said he could not talk about individuals.
The batsman became the youngest Bangladeshi to score a Test century when he did so at the age of 17 in 2001, before captaining his country between 2007 and 2009.