Ashes 2013: Fawad Ahmed added to Australia A squad
Last updated on .From the section Cricket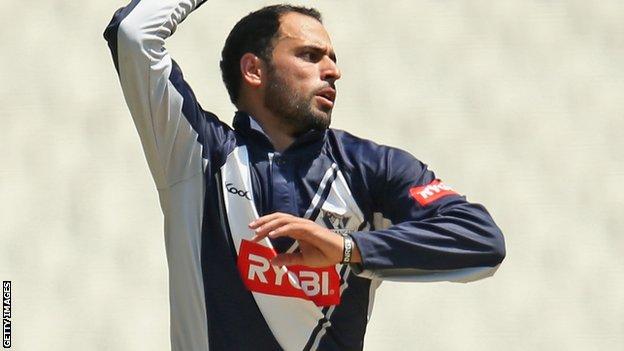 Pakistan-born leg-spinner Fawad Ahmed has moved closer to making an Ashes appearance this summer after being added to Australia A squad.
The 31-year-old plays for Victoria after fleeing his homeland, saying he was persecuted by religious extremists.
Ahmed is not eligible for an Australian passport but a change to the country's Citizenship Act later this month could see his integration into the Test team.
Former Australia spinner Shane Warne says Ahmed deserves an Ashes place.
Ahmed moved to the country in 2010 and was granted Australian residency in January, taking 7-162 on his first-class debut Down Under.
Australia's squad currently only has one specialist slow bowler in Nathan Lyon.
And Warne believes Ahmed could be a better option than Lyon, who has 22 caps.
"He's got that surprise element and doesn't get flustered about anything," Warne told BBC Radio 5 live.
"I think he could be very good for Australia.
"I really hope all the documentation goes through because I think he could be a real surprise element for Australia."
Without the passage of the bill, the earliest Ahmed could be eligible to play for Australia's Test side would be for the final match of the Ashes series 18 August.
But his hopes of securing citizenship and a passport were boosted on Wednesday by draft legislation passing through the country's lower house of parliament.
The legislation, which would allow for top cricketers to join a select list of elite athletes eligible to have their citizenship applications fast-tracked, is likely to pass through the upper house when it sits later this month.
Ahmed will be eligible for Australia A's games against Ireland in Belfast on 14-17 June and Gloucestershire in Bristol on 21-23 June.
The tour also features a match against Scotland in Edinburgh on 7-10 June.