Ashes 2013: Former winners on how England can beat Australia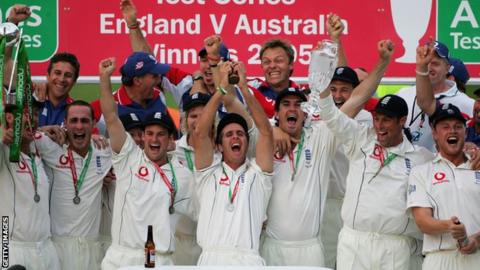 "The aim of English cricket is mainly to beat Australia."
Nothing succinctly describes the rivalry that exists between the England and Australia cricket teams better than Jim Laker's quote.
Australia, with 31 victories to England's 30, are just about the more successful of the two nations but England have won the last two match-ups and are favourites heading into this year's back-to-back home and away series.
So how, as an Englishman, do you beat the Aussies? BBC Sport asked five former Ashes winners what it takes.
Former England captain Geoffrey Boycott won the Ashes four times, scoring almost 3,000 runs against the Aussies, while both opening batsman Bill Athey and wicketkeeper Jack Richards played in England's successful 1986-87 tour of Australia, hitting more than 500 runs between them.
It then took England until 2005 to reclaim the urn under skipper Michael Vaughan, who scored almost 1,000 runs in Ashes Tests, with wicketkeeper Geraint Jones scoring 229 runs and claiming 16 victims behind the stumps.
Here is their guide to winning the Ashes:
Understand the occasion
Boycott: "The Ashes personifies cricket - it's about character, mental toughness and talent. It's about how you react in difficult, pressured situations."
Athey: "The history of the two countries makes the Ashes special. It's almost like the big brother and little brother thing that they want to knock us off our perch all of the time."
Jones: "In other Test series, some people will take a little interest and check the scores every few days. However, with the Ashes, everyone gets involved with the build-up and there is so much anticipation. The whole country gets swept up by it. It's massive and nothing else, in terms of Test match cricket, can match it."
Deal with the pressure
Jones: "You do feel the pressure because it is a notch up on the other Test match stuff you have been playing. In the series I played in, there was a lot of anticipation because we had been a successful side for the past 18 months and the fact England had not won the Ashes for a long time and everybody felt this was the opportunity.
"It's the same with this upcoming series because we have won the last two and the expectation is to win it again, and win it well.
"A big part of our challenge in 2005 was that the Australia side contained legends of the game. There was a thought that Australian team was invincible."
Read all about it
On the 1986-87 tour of Australia, English journalist Martin Johnson reacted to defeats in warm-up matches by writing: "There are only three things wrong with the English team - they can't bat, they can't bowl, and they can't field." The tourists went on to win the Ashes and Johnson's sentiments went down in cricketing folklore.
Athey: "We were really up for it because a journalist wrote that we couldn't bat, couldn't bowl and couldn't field. We ended up getting T-shirts printed with the saying on and we made a joke out of it. We proved him wrong."
Richards: "That fired us up certainly. On my first tour to India in 1980 the press were part of the touring group but those remarks brought a divide in the camp because we felt we deserved a little more respect."
Know your enemy
Vaughan: "In 2002-03 we were discouraged from drinking with the Australian team but I felt, in that period, the Australians were becoming alien-like, almost unbeatable.
"I wanted to get closer to them and for our players to see they were human, so by us having a drink with them after the first and second Tests at Lord's and Edgbaston, you see them as human.
"By getting close to them, I found out that a few of them didn't get on - like their wicket-keeper [Adam Gilchrist] and spinner [Shane Warne] - so when they were giving it the big one about team spirit, I knew it was fake. I knew they were not as tight as they thought."
Jones: "I remember going into the Aussie dressing room with Kevin Pietersen after the Lord's Test in 2005. I wanted to do it to break down barriers because that Australian team had an aura.
"I spoke with Gilchrist - it was general chit-chat. I wanted to speak to him to see what he had to offer."
Expect to go sledging
Athey: "If you think you can get a psychological advantage over an opponent just by saying something to him, that's part of international sport. It was never a problem for us in 1986-87, but it did go on between both sides.
"Merv Hughes, who was super aggressive when he first started out, chucked a few expletives my way every now and again, but I dealt with it and told him to tell me something I didn't know, tell me something new.
"The only way to stop somebody sledging you is to score runs."
Jones: "We always felt we had to be aggressive with the Aussies; you had to stand toe to toe with them and not take a backward step. They were renowned for getting on top and punishing sides so we felt that if anything happened we had to match them and stand up to them whenever we could.
"2005 was an amicable series but when we got out to Australia in the following series, as holders of the Ashes, I noticed a huge difference in the Australian approach. They completely blanked us and made a big effort to put a lot of pressure on us in the middle."
Richards: "The Aussies have always been the kings of sledging but we had to make sure we let our cricket do the talking in 1986-87. I knew not to react and only on the odd occasion did I get stuck in - I think I had words with Tim Zoehrer once or twice when I was batting and he was keeping.
"You have to block these things out and show the opposition they are not affecting you. I was a chirpy guy myself so I used to give it out from behind the stumps. I used to do it to keep the fielders alive and to make sure the batsman knew I was around. It used to get the bowlers going if I started sniping away."
Seize the moment
In 2005, Australia needed just three runs to beat England at Edgbaston and take a 2-0 lead in the series. They had recovered from 175-8 to reach 279-9 in pursuit of 282 when Steve Harmison bowled a sharp bouncer at Michael Kasprowicz, who gloved a catch to Geraint Jones behind the stumps. England won the match and went on to win a series against Australia for the first time in 18 years.
Jones: "The emotional outpouring after that catch was huge and intense. That last morning was unbelievable - we showed up to the ground expecting the game to be done fairly quickly.
"I did have a feeling that we would get one more opportunity to get a wicket and, after dropping a couple of catches in the first Test, I felt under pressure so I also thought it was more than likely that opportunity would come my way. I enjoyed that. I wanted it to come and I just kept telling myself I had to hold on to it when it came.
"When I took that catch and the umpire, Billy Bowden, put his finger up, a huge amount of emotion came out of me. If I am remembered for nothing more in my Test career than that one catch, I will take that."
Boycott: "I never had to dig deeper in my whole career than when I ran out the local hero, Derek Randall, at Trent Bridge in 1977. I was returning to the side and some people didn't want me to play, others questioned if I was past it and the Aussies bombarded me with bouncers galore.
"They gave me a real going over and we were 80-5 when Knotty came in, but he helped me and we both got hundreds."
Athey: "We got ourselves up for the big games - we lost several warm-up games but for the big games, the important ones, the game that people would remember, we got ourselves up for them and won them. When the going got tough, the tough got going I suppose."
Catches win matches
Athey: "Our fielding was exceptional throughout the whole tour in 1986-87. We also won the Perth Challenge and the World series while we were in Australia and I think we had a certain edge on everyone else through our fielding."
Richards: "You can't win the Ashes through mediocrity. You also can't afford to miss catches, that was one of the things about our team - even in the heat of Australia we took some magnificent catches and that got the bowlers going and makes the Australians think they can't make a mistake. We took every chance going.
"It's an aggression in itself if a batsman knows he can't afford a mistake or he is gone. It puts an extra element of pressure on the batting side. When the chips are down, the bowlers need to know they have a super fielding side behind them."
Use your 12th man
Jones: "England's supporters, the Barmy Army, are incredible, unbelievable - there are no other supporters like them in the world. They support you through thick and thin and they really understand the game. When you need a wicket they start singing and lift you, and when you are on top they don't stop.
"To know you have that support is amazing. The Aussie support is different and not as vocal. I think they are in awe of the Barmy Army - they get overpowered.
"The English supporters are more about supporting their side and not getting stuck into the opposition. If they do get stuck into the opposition, they do it in a friendly and fun way."
Know when to switch off between matches
Vaughan: "You have to be able to switch off away from the game and have the amazing ability to forget about your cricket.
"Alastair Cook is a farmer and he goes away and feeds his pigs and that down-time really helps him when it comes to playing.
"I was rubbish at that; I used to always think about the game and I was tired by the time the match came around."
Athey: "People relax in different ways. Some people might do something cultural and some might go down to the beach or read a book. I just visited friends.
"Everyone needs to get away from it at some point - whether it's international sportsmen or a businessman who wants to get away from the office.
"We all need to recharge our batteries. If you become consumed by it 24 hours a day, seven days a week, your performance is likely to suffer."