James Anderson: England paceman on being a top bowler
By Sam Sheringham
BBC Sport
Last updated on .From the section Get Inspired142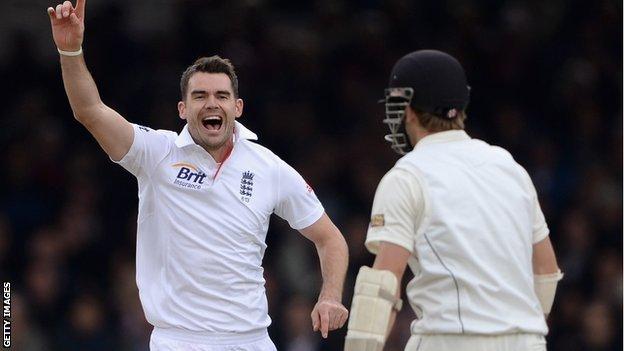 "For me, hitting the guy on the pad - the noise it makes - knowing it's hitting middle stump halfway up and turning round, knowing the umpire is going to put his finger up, is just the best feeling ever."
The thrill rush that follows a wicket-taking delivery has become a familiar sensation to England's James Anderson.
In the last two months, the fast bowler has joined Sir Ian Botham, Bob Willis and Fred Trueman in England's 300 Test wicket club and overtaken Darren Gough as the country's leading wicket-taker in one-day internationals.
The feats reflect Anderson's status as one of the best fast bowlers in the sport, a man capable of removing high-class batsmen with a range of devilish deliveries that move in the air or off the seam.
But Anderson's route to the top has not been without mishap. After making his England debut at the age of 20 in 2002, injury and inconsistency blighted his early years before he gradually developed a temperament and technique that could make him stand out.
In a revealing interview with BBC Sport's Mark Chapman, Anderson offers a detailed insight into what it takes to be a world-class fast bowler.
Citing his key influences and disclosing some of his methods, the Lancashire paceman - who will spearhead England's attack in the upcoming Ashes series - relives his journey to the highest echelons of his sport.
TECHNIQUE
Anderson's greatest skill is his ability to swing the ball both ways. His capacity to disguise which way it is going to move until the last moment is crucial to inducing batsmen into false shots.
A pair of deliveries to New Zealand's Dean Brownlie on the final day of the Lord's Test in May encapsulated this singular talent.
Both pitched just outside off stump, but the first swung in and fizzed past the inside edge. The second, an immaculate outswinger, found the outside of Brownlie's bat and he was caught at slip.
Like many more celebrated performers before him, Brownlie had been outfoxed by a supreme exponent of the art of swing bowling.
But, as Anderson reveals to Chapman, his current abilities are the product of more than a decade of toil.
"When I first got picked for Lancashire I couldn't swing the ball, so [coach] Mike Watkinson took me aside and taught me how to do it: the grip and the seam position," reveals Anderson.
"He said imagine the feel of it coming out of your hand almost like an off-spinner, your arm coming over almost like a round-arm, or low-arm. That really worked for me because I'm a feel kind of bowler.
"From there I tried to develop an inswinger. That took me years and years to actually develop the confidence to bowl it in a game, and then another couple of years to actually get it straight.
"Over the last few years, if I bowl a good ball I just try to think about everything I did during that ball, how it came out of my fingers, how it felt and just try to recreate that over and over again."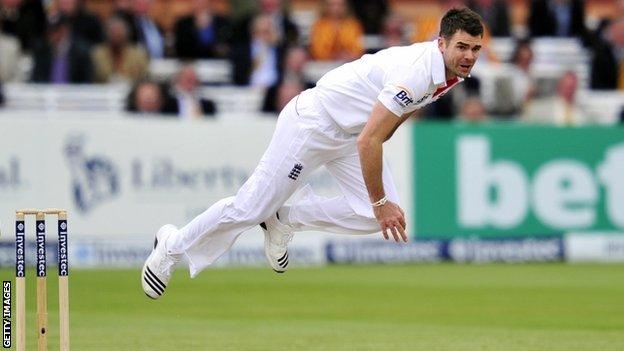 PREPARATION
Like all master craftsmen, Anderson owes much of his success to the hours he puts in developing his skills away from the workplace.
To this end, he is assisted by the England backroom staff, who compile reams of data and footage of opposing players.
"I remember before the Ashes in Australia in 2010-11, I sat down with bowling coach David Saker and we discussed having a delivery for Australian conditions that would keep me in the game when the ball wasn't swinging," Anderson recalls.
"We were playing Pakistan at the time and Mohammad Asif had a ball that wobbled a bit, hit the seam and moved both ways.
"Our batsmen were saying how difficult it was to face, so we got footage of it and tried to figure out how he did it.
"I then went into the nets during the series to see how best I could do it. I found something that worked for me, managed to get it on a good length and the guys in the nets were saying they thought it was a really good ball. I took that to Australia and it worked really well for me."
As well as studying rival bowlers, Anderson prides himself on an encyclopedic knowledge of the strengths and weaknesses of opposition batsmen.
"What about AB De Villiers?" asks Chapman of the prolific South African. "What's his weak spot?
"You have got to make him play with a straight bat," replies Anderson in a flash. "He loves to cut and pull so you've got to make him play straight."
And Ramnaresh Sarwan? How do you unsettle the classy West Indian?
"He's an lbw candidate early in his innings, so you want to swing one back in to him early on."
PHYSICAL DEMANDS
Straining every sinew to bowl a ball as fast as you can is the most gruelling of cricket's jobs within a job.
As a consequence, bowlers are frequent visitors to the treatment room, their backs, sides, knees and ankles particularly susceptible to injury.
"To bowl 25 overs in a day and then come back the next morning and do the same is strenuous," says Anderson.
"The forces that go through your body are ridiculous. I'm quite fortunate - I think I have about five times body weight going through my front leg, whereas some of the bigger guys have about seven or eight times their weight going through their legs."
Anderson believes the best way for a young bowler to stay fit is to bowl in a way that comes naturally. After all, the only major injury of his career - a stress fracture of the back in 2006 - resulted from an ill-fated attempt to alter his action.
"From a young age you get used to bowling in a certain way and my body wasn't quite prepared for the change," he says. Once I went back to my old action in my mid 20s I started staying injury-free.
"I'm 6ft 2in and I've always thought I'd love to be 6ft 5in or 6ft 7in. I look at people like Steven Finn and Stuart Broad who get so much bounce and pace from their height and I'm often envious of them. But at the same time I am fortunate to have a body that can cope with what I can do."
PSYCHOLOGY
A fierce competitor, Anderson can be as spiky and strident on the field as he is shy and softly-spoken away from it.
Never one to resist an exchange of words with a rival, batsmen who have the temerity to outstay their welcome at the crease are often given a fiery send-off when they are finally sent packing.
In some, a combustible streak could be counter-productive, but Anderson sees it as a fundamental part of his armoury.
"Over the last couple of years I've worked with our sports psychologist Mark Bawden and he has helped me to use it to my advantage," says Anderson.
"If you see me going at someone or having a few words with someone, it might look like I'm losing it but inside I'm very, very controlled and the minute I get back to my mark I'm completely focused on the next ball.
"I fire myself up to get me in the right zone to bowl well. I'm quite slight and not the tallest so I haven't got that physical presence that someone like a Chris Tremlett or a Steve Finn has got, so I've always thought I've had to show a bit of aggression to impose myself on the batsman."