Dean Morrison ineligible to play for Jersey this summer
By Tim Pryor
BBC Radio Jersey
Last updated on .From the section Cricket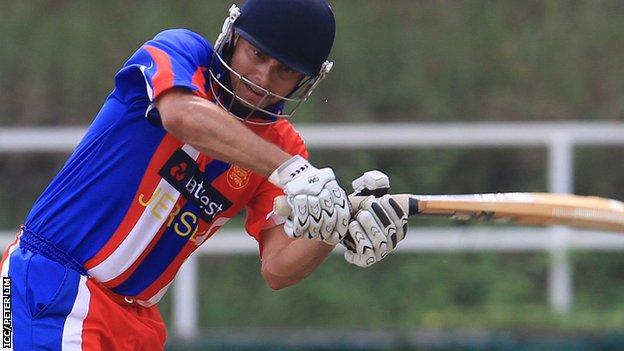 Jersey batsman Dean Morrison will miss his side's two international tournaments next month because of the number of days he has spent away from the island.
Coach Craig Hogan says an International Cricket Council (ICC) ruling means the left-handed opener cannot feature.
Morrison was born in Australia but has represented Jersey in tournaments around the world for many years.
"It's disappointing for Dean and the squad," Hogan told BBC Radio Jersey.
"It's the law under the ICC, it's the way it's interpreted and we can't do anything about that.
"Dean has been off the island for the number of days that it was a prerequisite to be able to play for your country."
Jersey will compete in European T20 Division One in Sussex in July, before hosting World Cricket League Division Six later in the month.
ICC rules released in 2010 state players may represent a nation in which they were born, or for which they have a valid passport, or where they have lived for at least 183 days in each of the previous four years.
The governing body is yet to comment publicly or confirm its decision, but Jersey's authorities did challenge the ruling.
"Unfortunately the ICC have got their regulations and unfortunately once you've gone through the appeal process there's no further avenue," added Hogan.
"We've just got to accept it and move on.
"Dean will be a very difficult player to replace, we've planned for it and we hope the younger blokes we put in the squad can all just play that little bit better to cover his loss."
Morrison scored 11 for club side Springfield in their Jersey Premier League win over Old Victorians on Saturday.