Ashes gossip column: Stories & rumours from international media
Last updated on .From the section Cricket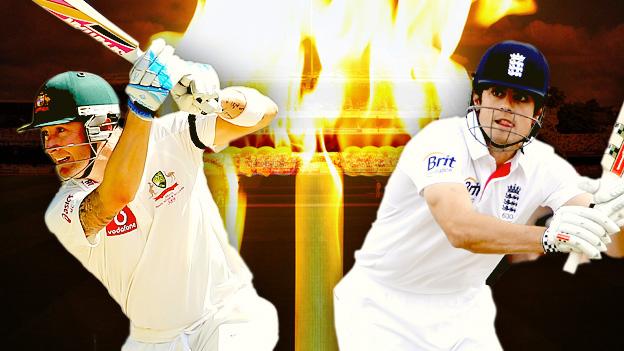 Monday's entry is the last for the 2013 Ashes series.
Monday, 26 August
The most senior figure in English cricket - ECB chairman Giles Clarke - has called for a change in rules on bad light after England's Ashes triumph ended with a disappointing draw.
(Full story: the Times)
England team director Andy Flower has refused to deny speculation that he is planning to quit at the end of the winter's return series in Australia.
Australia captain Michael Clarke was involved in a physical altercation with the two officials as England's 3-0 Ashes series victory ended in farcical scenes.
The Australian newspaper said the way the English crowd jeered Clarke was "nothing short of disgraceful" given that their own side had played "nothing but negative cricket at every stage of the match".
Australia's Daily Telegraph claims England's players were seen urinating on the pitch at The Oval hours after the fifth Test ended, describing the behaviour as "distasteful".
Full story: Australia's Daily Telegraph
Sunday, 25 August
Graeme Swann has been the trump card for England during this summer's Ashes series, according to former Wisden editor Scyld Berry. He writes: "Swann is the first England spinner to take 25 wickets in an Ashes series since Jim Laker took 46 in 1956, and far more important than the statistics, Swann won the crucial moments for England."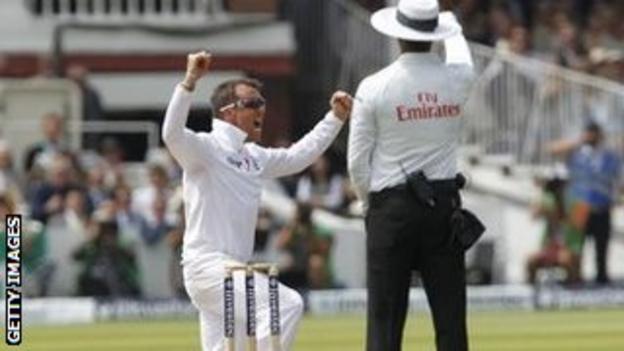 Bowler James Anderson says England are prepared for whatever hostilities Australia might throw at them down under this winter and recalls how home batsman Matthew Hayden fronted a "Tonk A Pom" campaign during the ill-fated 2006-07 tour, when England were whitewashed 5-0.
England spinner Simon Kerrigan endured a tough Test debut because he suffered stage fright, according to former Test bowler Mike Selvey. "Fundamentally, the occasion got to him. Maybe if he had been bowling to Chris Rogers it might have been a different story."
England are to be rewarded for their Ashes series win by going on a gruelling boot camp immediately after the one-day matches end at Southampton on 16 September. Team director Andy Flower arranged a four-day camp in Germany just before the 2010-11 tour and was pleased with how it bonded the players together.
Despite problems with technology and questionable on-field decisions, the Sydney Morning Herald's Malcolm Knox says he is pleased with the standard of umpiring in the Ashes series. "Look at the stats," he says. "When Australia have referred decisions to DRS, the players have been right six times, the umpires 21 times. England's rate is similar."
Full story: Sydney Morning Herald
Jim Holden, in the Sunday Express, says England's Ashes win cannot hide some dark clouds on the horizon. He writes: "The sense of momentum shift from a dominant England to a slowly resurgent Aussie team has been palpable to all."
Saturday, 24 August
Vic Marks writes in the Guardian about England's opening batsmen struggling for runs. He likens Alastair Cook and Joe Root's partnership to "spluttering like an old banger that is reluctant to start on a freezing February morning".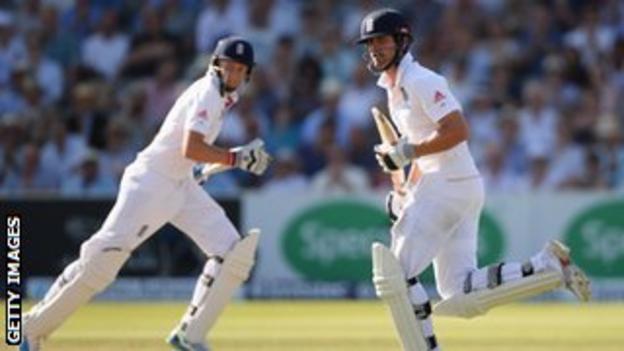 Charles Sale in the Daily Mail says there is annoyance within the England camp that Australian coach Darren Lehmann has not apologised after accusing Stuart Broad of "blatant cheating". The coach also said crowds should "give it to him from the word go" when the Ashes resumes in Australia in November.
John Etheridge writes in the Sun about the crowd cheering singles as the runs dried up for Kevin Pietersen and the other England batsmen at The Oval on Friday. He noted: "KP and co scored so sedately they were probably covered in moss when they returned to the dressing room."
Richard Hobson in the Times hints that one reason for England's focus on not losing the fifth Ashes Test, rather than pushing for victory, is that a 3-0 series win will mean they climb above India into second place in the ICC Test rankings.
Mike Brearley in the Times interviews legendary West Indies bowler Michael Holding and laments the lack of fast bowlers in the modern game. He asks where the "90mph-plus men" have gone and notes that the average speed of the quick bowlers in the Ashes series is just 84mph.
Sledging came to the fore for the first time in this Ashes series at The Oval on Friday when Kevin Pietersen and Michael Clarke indulged in some verbal jostling. Paul Hayward in The Daily Telegraph said the flashpoint was an attempt by Australia to try to soften up Ian Bell, who has been a favourite target in the past for the Baggy Greens.
Full story: The Daily Telegraph
Malcolm Knox in The Sydney Morning Herald has a grudging respect for England's attempt to strangle Australian hopes of winning the fifth Test. He said: "England's defensive effort was a sobering, no, stupefying, reminder that they are skilled not just in winning Test matches, but in the equally decisive art of not losing them."
Full story: Sydney Morning Herald
Friday, 23 August
Richard Hinds in the Courier Mail says the sight of Stuart Broad bowling "with a ring field better designed to stop invading streakers than take wickets" was a "message of abject surrender" and "must have heartened the Australians greatly".
Sir Ian Botham says England debutants Chris Woakes and Simon Kerrigan should not be cast aside after disappointing starts to their Test careers. He said: "I have always approved of giving youth its chance in Test cricket, and one tough day in the field - with the Ashes already won - is not going to make me abandon that principle."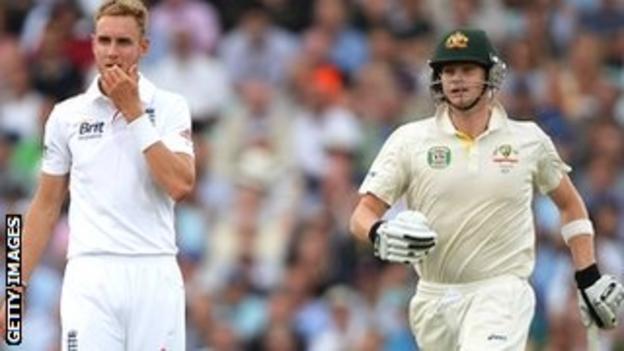 Former England captain Nasser Hussain says Chris Woakes is "no more than a fourth seamer at Test level, but then we shouldn't forget that Tim Bresnan was in the same position when he started out".
Malcolm Knox in the Sydney Morning Herald laments: "For all that Australia have sent an inexperienced team to England and are casting themselves as the rising force, the 'finds' of the Ashes series have been a 35-year-old batsman, a 33-year-old bowler and a rejuvenated 35-year-old wicketkeeper."
Full story: Sydney Morning Herald
Gideon Haigh pays tribute to Steve Smith, the sixth Australian to reach a maiden Test century with a six, and speculates: "It's surprising more batsmen don't go to their hundreds with sixes. Think about it. You're well set. Invitations are usually being dangled."
Matthew Norman says England left-arm spinner Simon Kerrigan can take comfort from such legends as Tiger Woods and Lionel Messi, both of whom endured difficult debuts.
Thursday, 22 August
Former England captain Nasser Hussain says Darren Lehmann's remarks about Stuart Broad, however intended, could have serious repercussions in this winter's Ashes series in Australia. "It will only take one drunken idiot in a bar, out to make a name for himself and taking Lehmann's quotes seriously, and there could be big trouble."
Gideon Haigh says of Shane Watson: "He bats, he bowls, he broods; he carries himself like Marvin the Paranoid Android making a cameo appearance in Baywatch" and says his 176 on the first day of the fifth Test "deepens the Shane Watson enigma".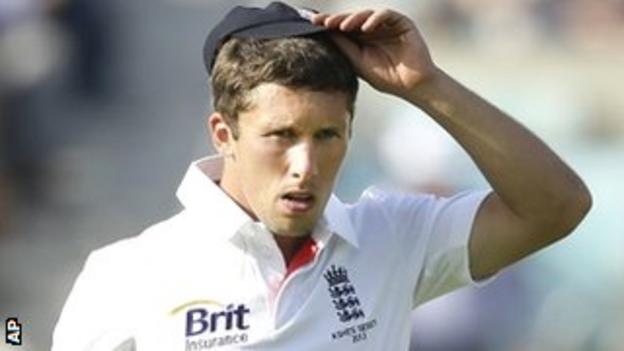 Stephen Brenkley writes: "England make much of the insistence that they always pick the team they believe gives them the best chance of winning but it is impossible to believe that this is the XI they would have named had they not been 3-0 ahead."
The Sydney Morning Herald says of spinner Simon Kerrigan's first day in Test cricket: "England are dreamin' if they thought Simon Kerrigan would trouble Shane Watson."
Full story: Sydney Morning Herald
Malcolm Knox devises an interesting comparison in the Canberra Times and writes: "In Waiting for Godot, Samuel Beckett wrote that men are always blaming their boots for the faults of their feet. In Waiting for Watto, which finished its current season at the Oval on Wednesday, Shane Watson finally took responsibility for his footwork."
Wednesday, 21 August
Australia coach Darren Lehmann wants his team's fans to make Stuart Broad regret his decision not to walk after being caught at first slip in the first Test. Lehmann said: "Certainly our players haven't forgotten, they're calling him everything under the sun as they go past. I just hope the Australian public give it to him right from the word go for the whole [Australian] summer and I hope he cries and he goes home."
Full story: The Daily Telegraph (Sydney)
England wicketkeeper Matt Prior finds the criticism being levelled at the side "amazing".
Former England all-rounder Andrew Flintoff believes the only way the team can properly celebrate winning the Ashes will be by "burying" Australia in the fifth Test.
Full story: The Sun (subscription required)
Ex-England captain Nasser Hussain thinks Steven Finn's "brain has become scrambled by the tinkering with his run-up".
Tuesday, 20 August
Stuart Broad has also accused Australia of being poor losers during the Ashes series as England lead 3-0 going into the fifth Test, which starts at The Oval on Wednesday.
Former Australia coach Mickey Arthur, who was sacked 16 days before the Ashes series, has spoken of the breakdown in his relationship with Shane Watson and other problems during his tenure.
Full story: Daily Telegraph (Sydney)
England have the chance to overtake India and move up to number two in the Test rankings if they win or draw against Australia in the final Test of the Ashes series.
England batsman Joe Root has to improve his footwork if he is to prove he has the quality to open the batting for the side.
Monday, 19 August
Alastair Cook has defended his style of captaincy of the England side following criticism from former Australia spinner Shane Warne.
Batsman Usman Khawaja is set to be dropped by Australia for the fifth Ashes Test, with Phil Hughes inline to take his spot for the game at The Oval.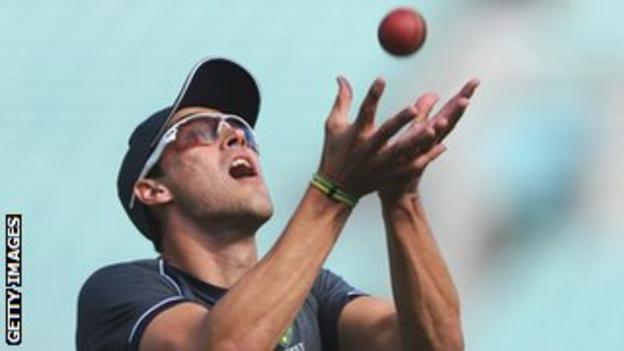 The tourists are 3-0 down against England and will make two changes for the final Test, with Khawaja and bowler Jackson Bird to be "the latest victims of deckchair shuffling as Australia attempts to avoid a history-making fourth Test loss in England".
Full story: Brisbane Courier Mail
Australia's left-arm paceman Mitchell Starc has been in and out of his country's side for the Ashes series in England and he says it is difficult to achieve consistency "when you play one game and you're dropped".
Full story: Sydney Morning Herald
Shane Watson has been dismissed four times in the Ashes series by Tim Bresnan and the Australian batsman is relieved the England bowler will miss the fifth test because of injury.