Darren Lehmann will bring back Australia's swagger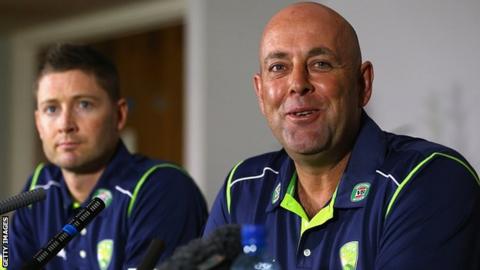 In 2001, two days after helping Yorkshire win their first County Championship title since 1968, Darren Lehmann was getting ready to face Nottinghamshire in a Sunday League game when he noticed there was still a pool of champagne in his helmet from the previous two nights' celebrations.
When his turn came to bat, Lehmann picked up his helmet, swigged the remainder of the bubbly and informed his team-mates that they were about to witness something special. True to his word, Lehmann walked out and blasted 191 off 103 balls.
If the appointment of Lehmann as Australia head coach for the Ashes is designed to help them rediscover something of their old swagger, then it would appear they have the right man.
Portly, bald and partial to beer and cigarettes, Lehmann was an old-school cricketer, who made up for a lack of fitness with an extraordinary talent for scoring runs in a 20-year first-class career that took in South Australia, Yorkshire and the national team.
Since retiring as a player in 2007, the man who once joked that ice baths were best used for cooling beers has earned a reputation as a back-to-basics coach who listens to and motivates his players.
"Lehmann is an earthy, no-nonsense, old-fashioned Aussie," Australian cricket broadcaster Jim Maxwell told BBC Sport.
"His attitude will be 'let's sit down, have a smoke and a beer and talk about it'. But if things are going wrong he'll be in your face.
"I think they have contemplated moving him into this role for a while but it has got fast-forwarded because of where they are at the moment. Lehmann can be the glue that can bring everyone together."
Left-hander Lehmann broke into the Australian first-class scene at the age of 17 and was called into the Australia squad at 19 after scoring 228 for South Australia against Victoria.
By 1996, he had started to split his domestic cricket between South Australia and Yorkshire, where he went on to write himself into local cricket folklore.
In 88 championship games for the county, he scored 8,871 runs at a staggering average of 68.76, signing off with an epic 339 against Durham, which helped Yorkshire avoid relegation by a single point.
It was the highest individual first-class innings at Headingley, surpassing Sir Donald Bradman's 334 for Australia against England in 1930.
Former England captain Michael Vaughan recalls learning from Lehmann as he came through the ranks at Yorkshire, and believes the 43-year-old can have a similar effect on a young and demoralised Australia squad.
"Darren had a big influence on me - he encouraged me to play more positively and run between the wickets harder," Vaughan told Radio 5 live's Tuffers and Vaughan show.
"He will get the Aussie lads together and give them goals of exactly what he expects from them.
"In the two-and-a-half weeks before the Ashes, he can't change them technically but he can change their mentality and give them an extra 15-20%."
From 1996 to 2005, Lehmann was a fixture in the Australia one-day side - he scored the winning runs in the 1999 World Cup final at Lord's - but his laidback approach to fitness and occasional roguish behaviour restricted his opportunities in the all-conquering Test side of the era.
His career hit a low point in 2003 when he was banned for five one-day internationals for using a racial slur about a Sri Lankan cricketer after he was run out in Brisbane.
Lehmann belatedly established himself as a Test regular at the age of 33 and scored five centuries in a prolific 11-month period before losing his place to Michael Clarke in late 2004, never winning it back.
Nine years on, Lehmann and Clarke are coach and captain of an Australian side in disarray both on and off the field, just 15 days out from the first Ashes Test at Trent Bridge.
Lehmann has vowed to use honesty and enjoyment to get Australia back to winning ways and plans to draw on the knowledge of Shane Warne and other successful former Australia cricketers who are stationed in England for the Ashes.
One man who fits that category is Jason Gillespie, and the former Australia fast bowler believes Lehmann's approach will bear fruit.
"Anyone that has spent any time with Darren Lehmann and knows him, in cricket circles, knows that it's a good decision," said Yorkshire coach Gillespie.
"I think Darren will bring a lot of enjoyment, a lot of fun to that dressing room. He keeps things very simple, is big on making sure the environment is strong and I don't think he'll put up with any rubbish.
"He's won a few trophies in a short space of time, knows how to manage people, and is an exceptional cricket coach. You put those two skills together and it comes up with a pretty good package."