Friends Life T20: Worcestershire v Glamorgan
Last updated on .From the section Cricket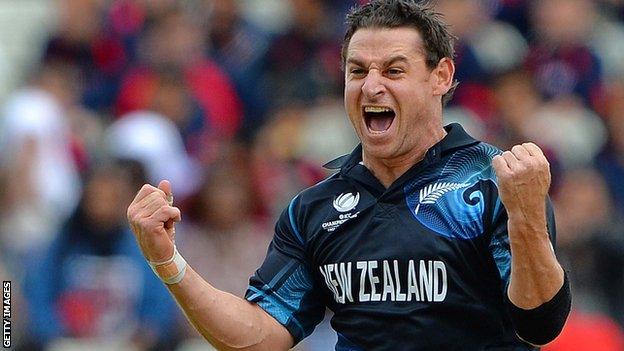 Glamorgan boss Matthew Mott says his side need to hit the ground running if they are to have any success in the Twenty20 championship.
The Welsh County start their campaign at Worcester of Friday, with Kiwi Nathan McCullum set to make his debut.
"It's an open field and we fancy our chances, and the key is getting off to a good start," said Mott, Glamorgan's head of elite performance.
Glamorgan were blighted by poor weather in last season's competition.
"If you get a couple of wins you can carry that momentum through but Worcester away is a massive task," said Mott.
"The club has made it quite clear it is the one facet of the game that brings the crowds in and it's a big part of our revenue stream.
"It's an exciting part of the year and we have had a long time to prepare for it.
"We have as good a chance any anyone. We thought we had a chance last year, but five games in and we were washed out."
Mott, who is in the final year of his three-year contract with Glamorgan, is confident he has a squad that can reach the last eight of the competition.
Kiwi Nathan McCullum has already set his sights on helping Glamorgan to the finals day of the Friends Life T20 campaign.
The New Zealand international off-spin bowler joined the Welsh county for the tournament after original signing, Australian Dirk Nannes, suffered an injury.
McCullum's elder brother, Brendon, played for Glamorgan in 2006 and the pair were both in the New Zealand team knocked out of the ICC Champions' Trophy by England in Cardiff on 16 June.
But Nathan McCullum, 32, was not put off by that bad experience at the Swalec Stadium, and Mott is happy to have him on board for the tournament.
"I don't see too many weak links in our line-up, we would have loved to have had the services of Dirk Manners we have been very lucky getting Nathan McCullum," he said.
"Our one-day cricket has been pretty good so far and that should correlate into some Twenty20 skills.
"Hopefully we can up the intensity and we should get off to a good start."
Simon Jones is left out of the 14-man squad for the opening game having failed to recover from a shoulder injury.
Glamorgan squad: J Allenby, MA Wallace (wkt), CB Cooke, MJ North (capt), MW Goodwin, BJ Wright, SJ Walters, NL McCullum, NA James, DA Cosker, MG Hogan, WT Owen, GG Wagg and AJ Jones.