Ashes 2013: Australia player profiles and career statistics
Last updated on .From the section Cricket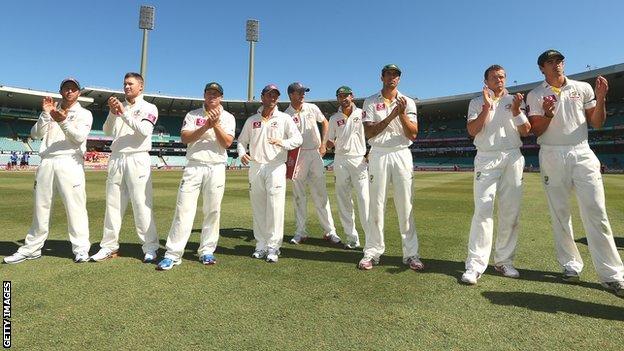 For the first time in a generation Australia enter the Ashes as underdogs.
But are they that bad?
With the help of former batsman Damien Martyn, who played 67 Tests and helped Australia win the Ashes four times, BBC Sport profiles every member of the touring squad.
Batsmen
Michael Clarke (captain) - Age: 32; Tests: 92; Runs: 7,275; Average: 52.33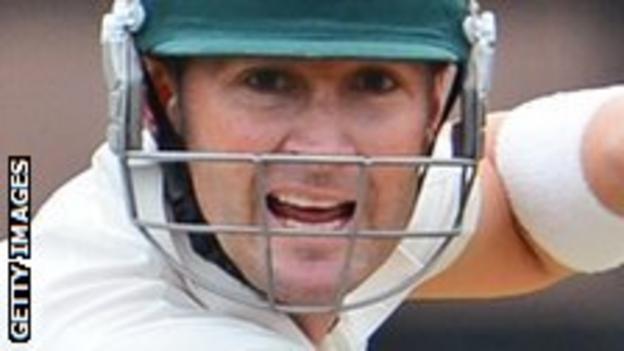 The only member of the touring squad who has played in an Ashes-winning team, Clarke established himself as arguably the best batsman in the world on the back of a phenomenal run of form in 2012. Far from universally accepted by the Australian public when appointed as Ricky Ponting's successor in 2011, he has won over the doubters through sheer weight of runs - and earned a reputation as an innovative and attacking captain to boot.
Damien Martyn's verdict: "His batting has gone to new levels and in Australia he has a gained a new level of respect. He's getting up there with a group of guys - Ricky Ponting, Matthew Hayden - that were unbelievable in terms of their batting stats for Australia."
Chris Rogers - Age: 35; Tests: 1; Runs: 19; Average: 9.50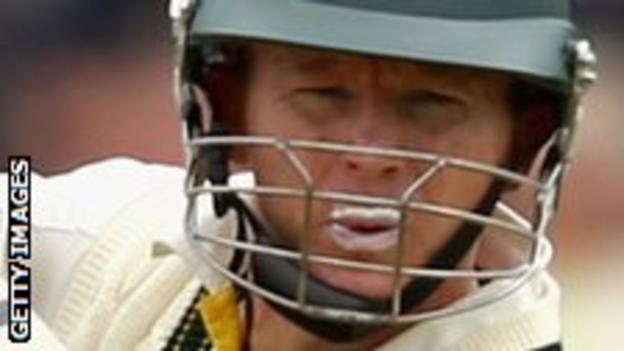 The statistics do not tell the full story of Rogers, who was something of a surprise inclusion in the Australia squad, having played a solitary Test in 2008. Prolific in Australian domestic cricket and also for Middlesex, he boasts almost 20,000 first-class runs at an average of 50.38. One of nine left-handed batsmen in the squad, Rogers has been guaranteed an opening berth to begin the series.
Martyn's verdict: "A senior member of the side despite only playing one Test. He will make a lot of runs because he knows English conditions and the bowlers. A hard nut."
Ed Cowan - Age: 31; Tests: 17; Runs: 987; Average: 32.90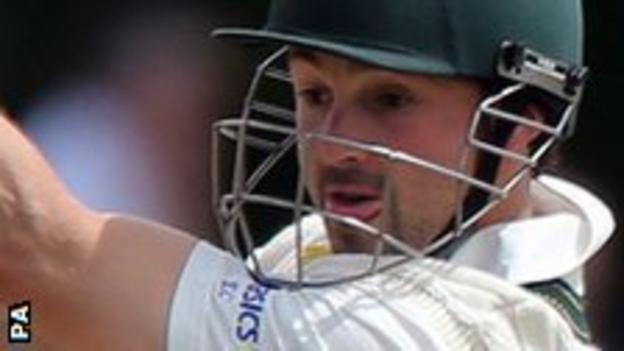 A dogged left-handed opener, Cowan arrived late to Test cricket but his 136 against South Africa at Brisbane last year underlined his quality. Has spent part of the 2013 summer playing county cricket with Nottinghamshire, scoring 478 first-class runs at an average of 43.
Martyn's verdict: "He has been a solid performer during a period of turmoil. Scored a lot of runs in Sheffield Shield cricket and, despite losing his opening spot to Shane Watson, he is likely to fit into the side."
Phil Hughes - Age: 24; Tests: 24; Runs: 1,452; Average: 33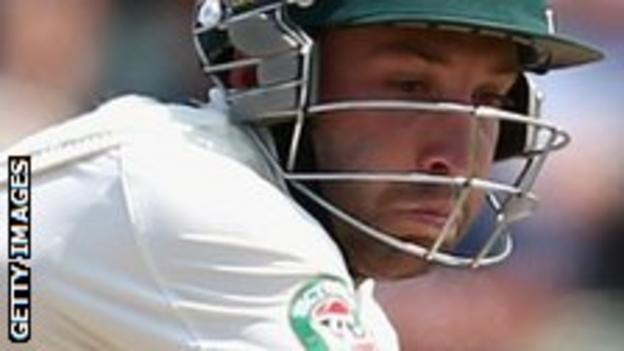 The Ashes could prove to be a key series for left-handed Hughes, who burst on to the scene with a century in each innings in only his second Test against South Africa in 2009. Unorthodox yet strong through the off side, he toiled against the short ball in England in 2009 and has struggled to secure a permanent place in the team. Managed a highest score of 69 in four Tests against India earlier this year.
Martyn's verdict: "Super talented with an unbelievable record [in other formats] - now it's a question of whether he can convert that into the Test arena. If he does, he'll be a very good player."
Usman Khawaja - Age: 26; Tests: 6; Runs: 263; Average: 29.22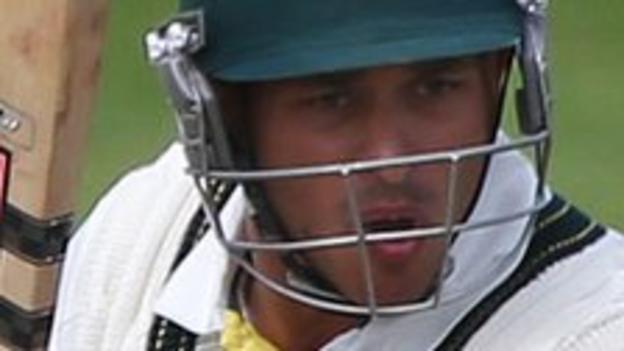 The left-hander is yet to realise his potential in international cricket after making his debut in the final Test of the 2010-11 Ashes series in Australia, prompting comparisons with David Gower when he pulled his second delivery for four. There remain question marks over whether he can marry substance with his undoubted style - and blotted his copybook when he was among the four players banned for breaching team discipline on the tour of India. Boasts experience of English conditions from his time with Derbyshire.
Martyn's verdict: "Very talented with lots of people talking him up. Now he needs to get the opportunity and perform on the big stage. We know how good he is, but can he convert that to Test cricket?"
David Warner - Age: 26; Tests: 19; Runs: 1,263; Average: 39.46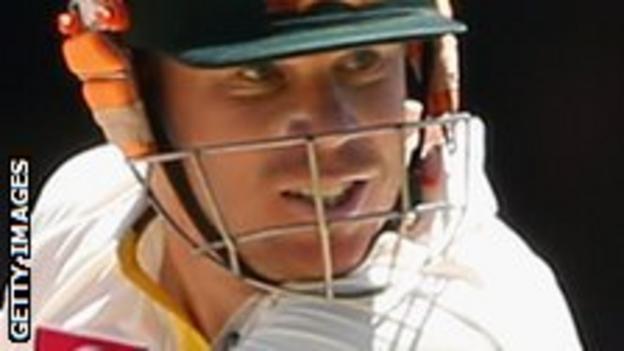 Warner made the headlines for the wrong reasons on this tour after being suspended until the first Test for hitting England's Joe Root in a nightclub. A devastating left-handed opener who played Twenty20 international cricket for Australia before he made his first-class debut in domestic cricket, Warner has yet to rid himself of the tag as a one-day specialist. However, he has carried his bat in a Test - and hit a 69-ball hundred.
Martyn's verdict: "An exciting player that needs to be kept on the right path. We've all had off-field problems, but he needs to be seen to have learned from his. Very talented and will play a part in the series."
All-rounders
Shane Watson - Age: 32; Tests: 41; Runs: 2,580; Average: 35.34; Wickets: 62; Average: 30.06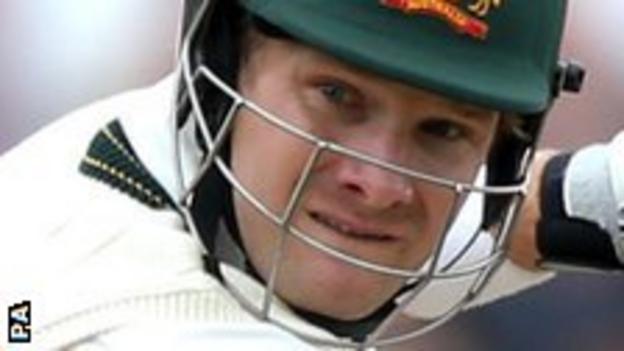 The influential all-rounder averages more with the bat in Tests against England than any other team, with 675 runs at 48.21. Technically correct and particularly strong through the off side, he scores at a brisk rate when at his best. Although injuries have played a part in stalling his career, his commitment has also been called into question. He captained Australia in India after returning from a ban, but stood down as vice-captain before the Ashes. His nagging medium pace is a more than useful seam option.
Martyn's verdict: "I'm picking him as Australia's key man. They need him to score runs and take wickets in the Andrew Flintoff mould. Exciting to watch."
James Faulkner - Age: 23; Uncapped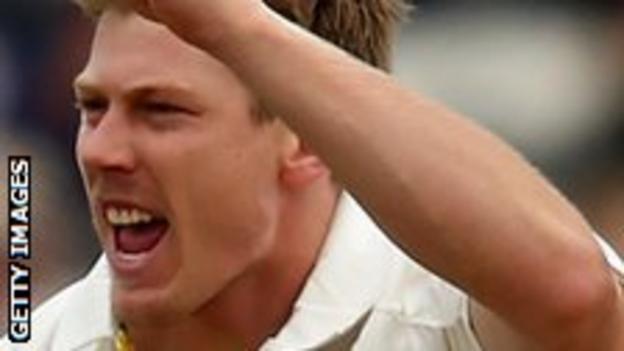 A powerful, upright batsman and quick enough with the ball to hurry international players, Faulkner is a promising all-rounder who boasts an impressive first-class record - he averages 29 and 22 respectively. He has shown brief glimpses of his talent in eight one-day internationals, most noticeably when he took 2-48 and scored 54 not out in a losing cause against England in the recent Champions Trophy.
Martyn's verdict: "Comes with a massive rating from Shane Warne, so if Warne says he's good then that's enough for me. Has been outstanding in the shorter form of the game."
Steve Smith - Age: 24; Tests: 7; Runs: 420; Average: 32.30; Wickets: 4; Average: 70.75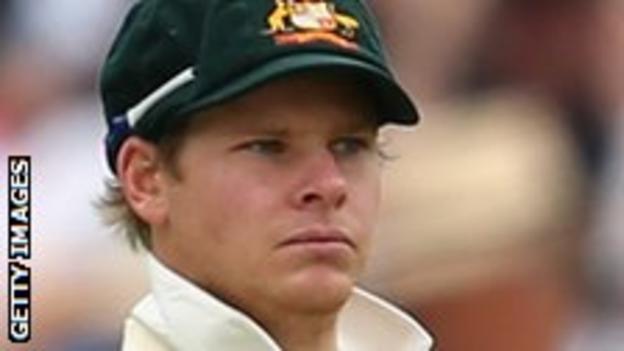 Smith has gone from a leg-spinner who bats to a batsman who bowls occasionally, and was called up to the squad as cover when Michael Clarke's back injury put his participation in doubt. A talented athlete with impressive hand-eye co-ordination, he is one of Australia's best fielders.
Martyn's verdict: "Has had a few opportunities and done well in the short-term. One of a number of guys who need to make a mark in the biggest arena."
Wicketkeepers
Brad Haddin (vice-captain) - Age: 35; Tests: 44; Runs: 2,308; Average: 35.50; Catches: 164; Stumpings: 5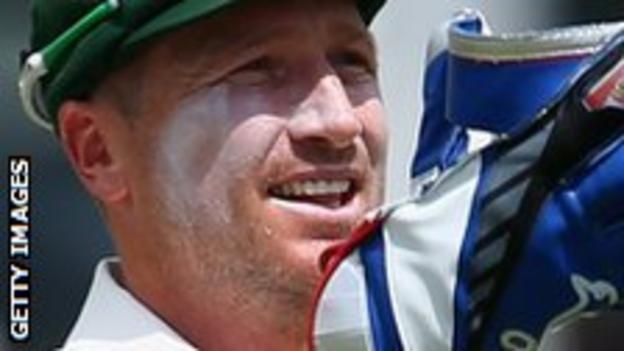 Haddin was Australia's first choice behind the stumps in the last two Ashes series, both of which England won. But a poor run of form saw him dropped in January 2012 and it took more than a year for him to earn a recall - when he replaced Matthew Wade for the third Test in India earlier this year. A counter-attacking batsman and his influence in the dressing room is shown in his appointment as vice-captain.
Martyn's verdict: "A senior player that has been around for a long time. It's good to have him back because he's a great keeper-batsman."
Matthew Wade - Age: 25; Tests: 12; Runs: 623; Average: 34.61; Catches: 33; Stumpings: 3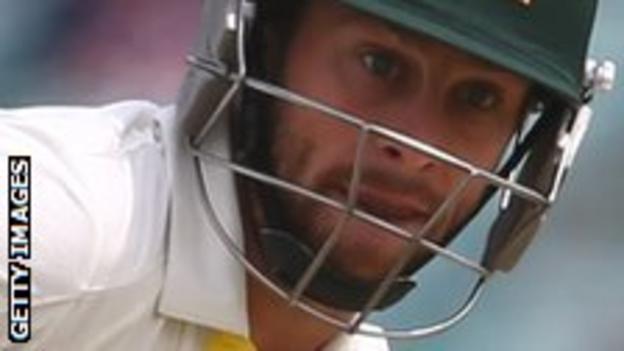 Although he can expect to find opportunities hard to come by given Haddin's presence to the side, Wade is seen by many as the future of Australian wicketkeeping. An aggressive left-handed batsman who boasts centuries against Sri Lanka and West Indies in an embryonic Test career.
Martyn's verdict: "An attacking player, a fighter who has done well for Australia. Unlucky to lose out to Haddin, but will learn from being an understudy on this tour."
Bowlers
Peter Siddle - Age: 28; Tests: 41; Wickets: 150; Average: 28.84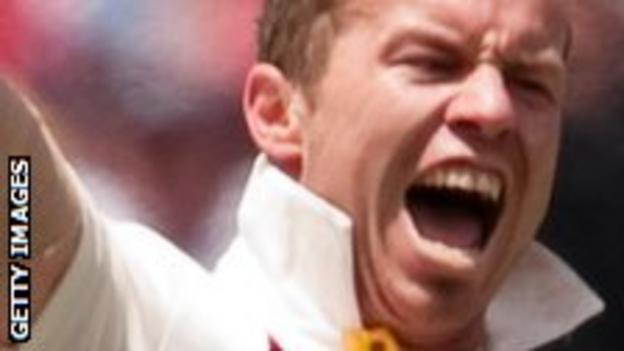 Australia's most experienced bowler, Siddle has previous against England, most memorably a hat-trick in the opening Ashes Test of the 2010-11 series. Capable of swinging the ball at pace and famously aggressive, he can be relied upon to put in long spells.
Martyn's verdict: "Has been the bowling leader and the likes of James Pattinson and Mitchell Starc will be looking up to him. Another workhorse that goes all day for the captain."
Ryan Harris - Age: 33; Tests: 12; Wickets: 47; Average: 23.63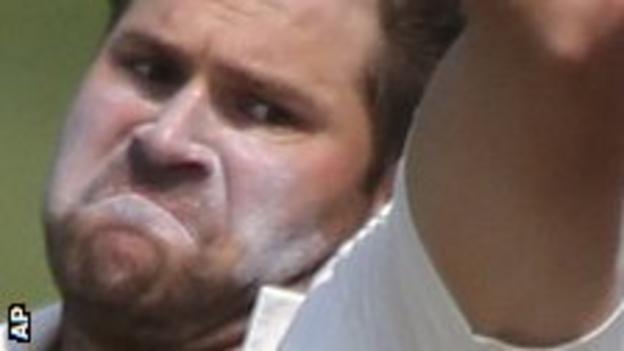 A bustling pace bowler who has struggled with injury in recent seasons, but he has an impressive Test record, including 11 wickets in his three previous Tests against England. He is also a powerful lower-order batsman with a Test half-century to his name.
Martyn's verdict: "A Merv Hughes-style bowler that will run in all day. A workhorse - puts his heart and soul into every spell for Australia."
James Pattinson - Age: 23; Tests: 10; Wickets: 40; Average: 23.37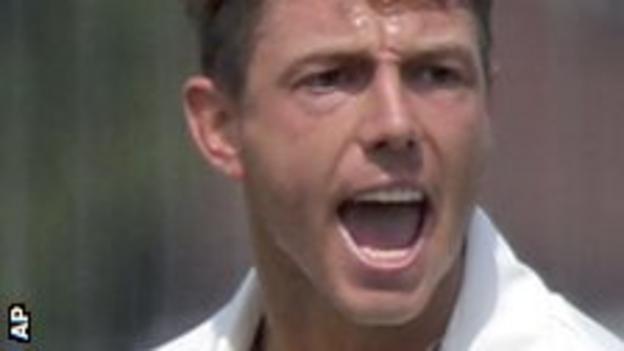 Australia are placing great hope on the shoulders of the strapping Pattinson, who bowls with genuine pace. The younger brother of once-capped England bowler Darren Pattinson, he claims England asked him to play for them. He took 16 wickets in his first two Tests against New Zealand and 19 in three matches against India earlier this year.
Martyn's verdict: "Will be the big X-factor of the bowling department. Young, talented and quick and England will be worried about him. I expect him to step up in this series."
Mitchell Starc - Age: 23; Tests: 9; Wickets: 30; Average: 34.03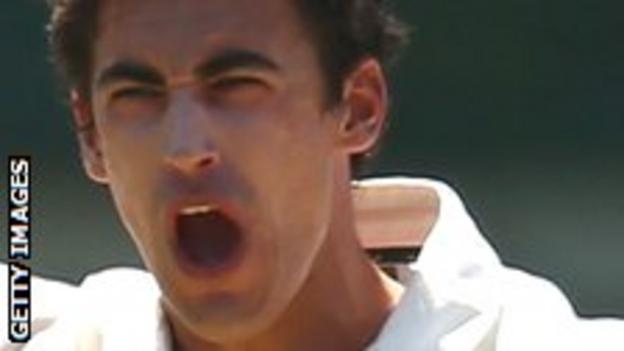 Alongside Pattinson, Starc is expected to lead the Australia attack for years to come - and is part of the reason why former coach Mickey Arthur claimed he possessed the best "all-round bowling attack in world cricket". He swings the ball both ways at pace and impressed knowledgeable observers during a stint with Yorkshire last season. Rated as one of the most exciting young bowlers in world cricket.
Martyn's verdict: "He has been outstanding for Australia. A quick left-armer who is well known in England. I'm looking forward to him and Pattinson bowling together."
Jackson Bird - Age: 26; Tests: 2; Wickets: 11; Average: 16.18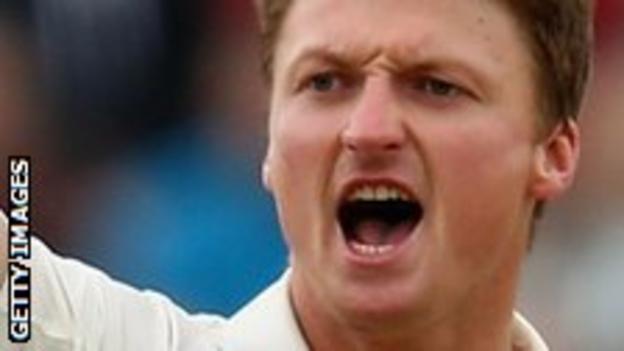 Bird may not have the express pace of his seam-bowling colleagues, but he has height on his side and maintains a tight line and length as he relies on movement off the seam. He took 11 wickets in his only two Tests against Sri Lanka and, with 105 first-class wickets at an average under 20, could be a surprise package should he get his chance.
Martyn's verdict: "People have told me lots about what he can do and how good he is. I don't think he'll play at the start, but he has lots of backers."
Nathan Lyon - Age: 25; Tests: 22; Wickets: 76; Average: 33.18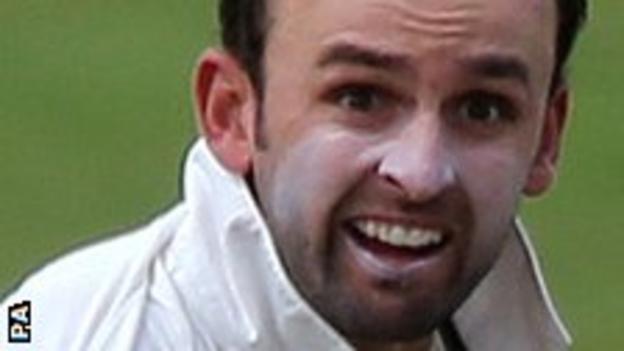 Lyon, like many a spinner before him, has struggled to follow in the footsteps of the legendary Shane Warne, but he remains Australia's best option. The off-spinner can turn the ball sharply and is unafraid to toss it up. Dropped after the first Test in India this year, he returned for the final two Tests of the series and claimed career-best figures of 7-94 in Delhi.
Martyn's verdict: "Has been very solid for Australia and was very unlucky to be dropped in India. I'm expecting big things from him in the Ashes."
Ashton Agar - Age: 19; Uncapped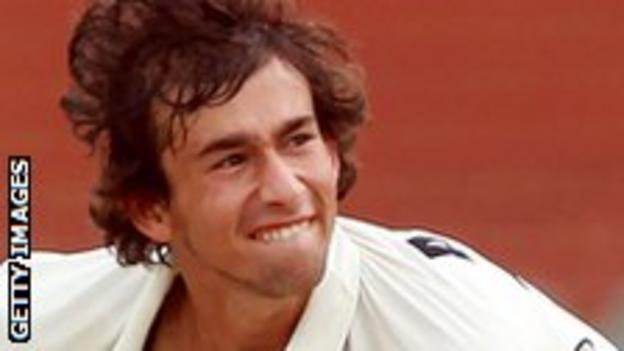 A tall, left-arm spinner of Sri Lankan heritage, Agar's presence - at the age of 19 and with just 10 first-class games under his belt - could be seen as an indictment of Australia's sparse spin-bowling resources, or testament to his burgeoning talent.
Martyn's verdict: "Lyon will be the main spinner, but Agar might play a part. He's bowled well for Western Australia and takes lots of wickets. Could be a huge opportunity."