Ashes 2013: Trent Bridge ground guide, history and statistics
By Mark Mitchener
BBC Sport
Last updated on .From the section Cricket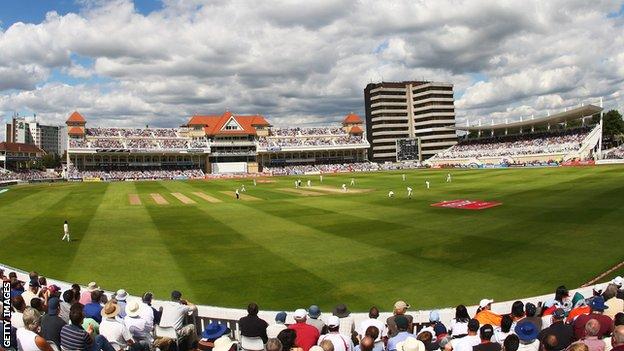 Trent Bridge hosts the first Ashes Test this week, having missed out in 2009, but the excitement of the fourth Test in 2005, when Ashley Giles and Matthew Hoggard were England's unlikely batting heroes, still lingers.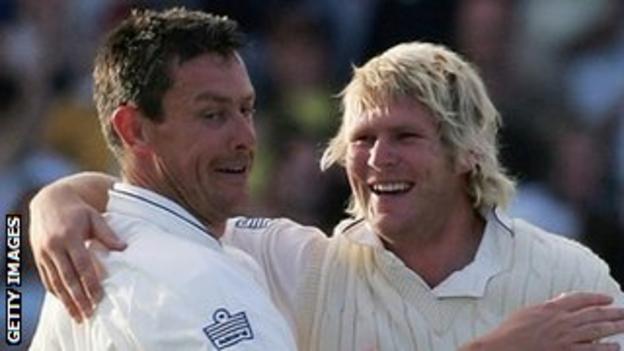 Home to Nottinghamshire since 1841 and just a stone's throw from Nottingham Forest's football stadium, the ground has hosted 58 Tests since England and Australia drew there in 1899 - including 20 Ashes Tests and a 'neutral' encounter between Australia and South Africa in 1912.
It has been a happy hunting ground for England in recent years, with seven wins from nine Tests there since 2003, against South Africa, New Zealand (twice), Australia, Pakistan, India and West Indies.
Trent Bridge is the home ground of England bowlers Stuart Broad and Graeme Swann, although neither began their county careers at Nottinghamshire. Australia batsman Ed Cowan spent the first half of this season at Notts.
Trent Bridge in numbers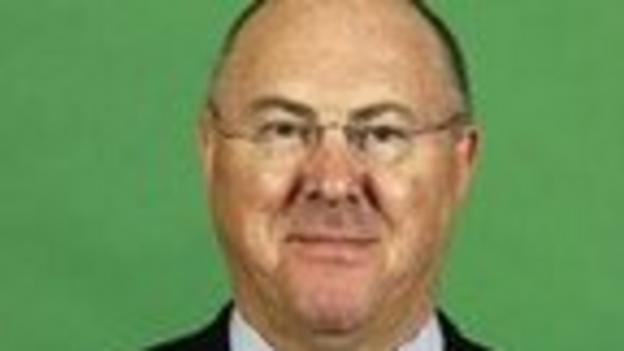 BBC Test Match Special statistician Malcolm Ashton presents Trent Bridge's Ashes records:
Ashes Tests: 20 (England won 4, Australia won 7, with 9 draws)
First Ashes Test: 1-3 June 1899; match drawn.
Highest Ashes total: 658-8 declared by England in 1938; Eddie Paynter (216 not out) was one of four centurions.
Lowest Ashes total: 112 by England in 1921, when Australia needed less than two days' play to wrap up a 10-wicket win.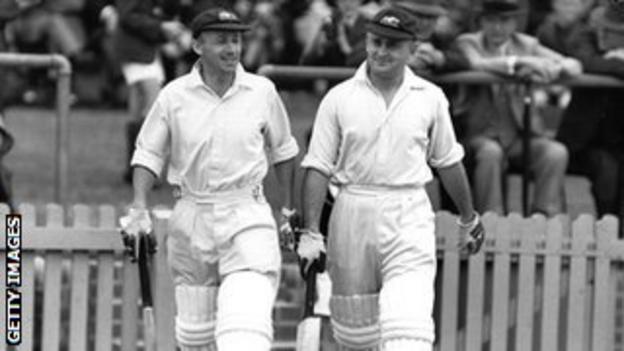 Highest individual Ashes score: 232 by Stan McCabe (Australia) in 1938, was last out and unable to prevent the follow-on as Australia made 411 in reply to England's 658-8 (see above).
Most Ashes runs: 526 by Don Bradman (Australia) in four Tests between 1930 and 1948, at an average of 75.14. "The Don" also holds the record for most Ashes centuries at Trent Bridge, with three.
Best Ashes bowling (innings): 8-107 by Bernard Bosanquet, who bowled England to a 213-run win in 1905.
Most Ashes wickets: 29 by Shane Warne (Australia) in four Tests between 1993 and 2005.
Ashes runs scored: 18,701, for the loss of 600 wickets at an average of 31.17 runs per wicket.
Ashes boundaries: 1,952 (1,920 fours, 32 sixes).
Classic Ashes match - fifth Test, 1989
In August 1989, England were reeling by the time they arrived at Nottingham for the fifth of a six-Test series. The Ashes were already gone, with skipper Allan Border's resurgent Australia having taken an unassailable 3-0 lead after four Tests.
Beleaguered England captain David Gower's selection problems were made even worse when during the third Test at Old Trafford, it was announced that his predecessor Mike Gatting would be leading a "rebel" tour to apartheid South Africa that winter. Gatting's squad included three players involved in that Test plus six others who had already featured in the 1989 series.
So it was a new-look England side Gower led out at Trent Bridge on the first morning after losing the toss, with the out-of-form Graham Gooch dropped. Fresh-faced Cambridge University graduate Michael Atherton and big fast bowler Devon Malcolm made their debuts.
Aussie openers Geoff Marsh and Mark Taylor walked out to open the innings - and walked back to the pavilion at the end of the day both unbeaten with the score 301-0.
Although they eventually perished on day two - Marsh for 138 at the end of an opening stand of 329, and Taylor later for 219 - it set a platform for Border to declare on 602-6 early on day three. Malcolm returned debut figures of 1-166 from 44 overs, while even Atherton sent down seven overs of part-time leg-spin.
England's top three contributed a total of two runs in the first innings (including a debut duck for Atherton), and despite a backs-against-the-wall century from Robin Smith, with Ian Botham nursing a dislocated finger, the hosts were run through for 255 and 167, allowing Australia to win by an innings and 180 runs.
What happened next? The final Test at The Oval was drawn as Border became the first Australia captain since Bill Woodfull in 1934 to regain the Ashes on English soil. Australia used only 12 players in the series; England fielded 29, with only captain Gower and wicketkeeper Jack Russell ever-present. It would be 16 years before England were to hold the urn again.
Champagne moment - 27 August 2005
Sixteen years after Marsh and Taylor ruled supreme, the boot was finally on the other foot. The once mighty, all-conquering Australians had been made to follow on for the first time in 17 years, and were looking rattled.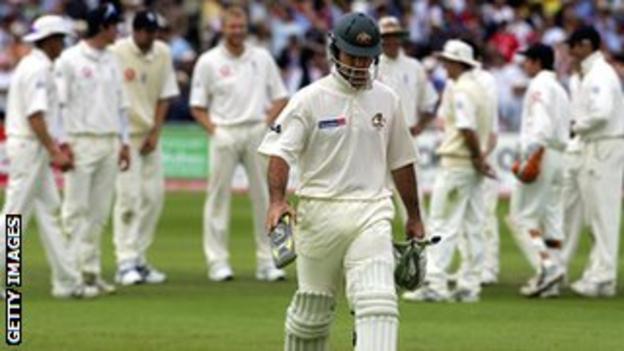 Captain Ricky Ponting was on 48 in the second innings when his batting partner Damien Martyn pushed the ball into the covers and set off for a quick single, but substitute fielder Gary Pratt shattered the stumps with a direct hit as Ponting failed to make his ground at the striker's end.
Walking off, the furious Australia skipper aimed a stream of four-letter abuse at England coach Duncan Fletcher, which cost him 75% of his match fee.
Ponting had complained about England's use of substitutes during the series, but Pratt's inclusion was entirely legitimate as fast bowler Simon Jones, who had taken a majestic 5-44 in the first innings, was in hospital with an ankle injury which, as it turned out, prevented him from ever taking the field for England again.
What happened next? Despite a nervous run chase, England sneaked home by three wickets at Trent Bridge, before a draw at the Oval handed them the Ashes. Pratt was out of first-class cricket just over a year later, released by Durham at the end of the 2006 season.
Years later, in a magazine interview, Pratt said that even if he discovered the cure for cancer, he would always be known as the substitute fielder who ran out Ponting.