Ashes 2013: Nick Compton hopeful of England return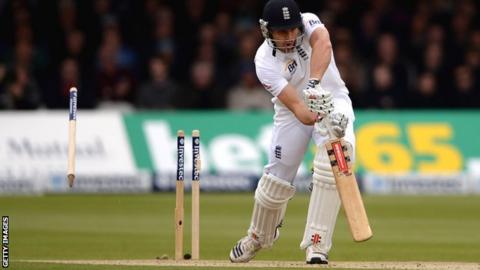 England batsman Nick Compton believes he still has an international future despite being left out of the four-day Ashes warm-up match against Essex.
Compton, 30, made successive centuries in New Zealand in March but only 39 runs in four innings against the Kiwis in the two home Tests in May.
Joe Root opened the innings against Essex, suggesting he will bat there in the first Ashes Test on 10 July.
"Hopefully I'll get an opportunity in the series," Compton told BBC Sport.
Compton, grandson of the late England batsman Denis, made his Test debut in India in November, scoring 208 runs in the four matches at an average of 34, with a top score of 57.
This month he has made 166 for Somerset against Durham and scored 81 and 34 for his county against Australia.
England officials have also given him another chance to impress against the tourists by requesting he plays for Worcestershire against the Australians in a four-day match beginning on Tuesday.
"It's been a tough week but you have to dust yourself off," he said. "There's no point crying over spilt milk - as much as it was upsetting and a bit of a shock, it's nice to play the Australians and get a crack at them.
"I still want to keep myself in the frame and you can only do that by scoring runs."
Compton explained that England selector Geoff Miller visited him during a county game to tell him he was not playing against Essex.
"He told me at Derby that my performance at Headingley [in the second Test against New Zealand, where he scored one and seven] wasn't up to scratch and they thought I'd lost some confidence. I felt that was a bit harsh because it was a new part of the season and sometimes your feet aren't working, and there were a few batsmen light of runs there," said the Durban-born player.
"New Zealand bowled well, swung it, and sometimes when you're pushing for the ball against a decent new ball you can come unstuck. But you go through ups and downs and it's how you come through it, so I wasn't going to throw my toys out."
Compton also said he had been impressed by the form of 22-year-old Yorkshireman Root.
"We all know what a good talent Joe is and how well he has taken to international cricket. He's a good lad and I wish him well," he said.
"Playing in the Ashes would be the pinnacle for any England cricketer.
"I would be lying if I said it wasn't in the back of my mind the whole winter. I wanted to show what I could do and I thought I did that pretty well in New Zealand. I still feel like there's a lot more to come."
England Test batting coach Graham Gooch said he did not believe the line-up for the first Ashes game had been confirmed yet, and suggested the door was still open for Compton.
"He played against Australia this week so he's seen some of their bowlers. He's a hard worker, a fighter and scored two Test hundreds not long ago.
"He provides another option for the selectors. They could go for him or put Joe Root at the top of the order - whichever they do, we won't be a lesser side.
"That's the nature of international sport, you pick what you think is the best side to win the game. It would be tough on Nick if he misses out, as it would be tough on any player. You'd like to pick 12 or 13 but you can only pick 11, that's the reality of the situation."