Andrew Gale: Yorkshire captain was close to dropping himself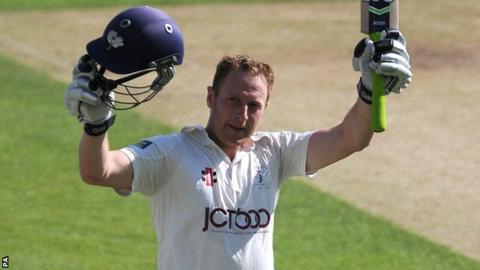 Yorkshire captain Andrew Gale has admitted he was close to dropping himself before hitting three centuries in successive Championship matches.
Yorkshire sit proudly at the top of the County Championship at the half-way stage of the season.
But the outstanding form being shown by his team-mates was adding to the pressure on Gale to perform.
"I was only another game or two at the most from dropping myself," said the 29-year-old.
When he walked to the crease against Nottinghamshire in Scarborough last month, Gale had not scored a century in 33 innings, having only contributed 487 first-class runs last summer as Yorkshire won promotion from Division Two.
And no-one was more aware than Gale, who was once talked of as a potential England player, that many were suggesting if he had not been captain of a successful side, he would have been left out long ago.
"Last season I probably didn't feel under too much pressure, because I was hitting the ball OK and I was contributing, albeit not with hundreds," he said.
"But earlier this season I did say to 'Dizzy' [head coach Jason Gillespie] I wasn't going to play just as a captain, because a captain has to lead from the front, he has to justify his place in the team.
"I didn't need telling I wasn't scoring enough runs. I was scratching around, and I knew people were writing and talking about it."
When he went to the crease at North Marine Road, a ground at which he has a proven record, Gale knew something had changed.
"After the first three games of the season I felt I was falling over at the crease. No-one really told me, but I could see from the ways I was getting out - there were a lot of leg befores, I was missing a lot of balls on my legs, because I was planting my front foot and anything wide, I wasn't getting across.
"Something had to change, I had to make an adjustment, particularly in my stance, make it a lot more upright and balanced. I played around with it in the nets, stood up, stopped tapping my bat on the ground as the bowler ran in, and it felt a million dollars.
"I tried it at Warwickshire in the Championship match and felt good, I got 40 and was a bit unlucky to get out, but at Somerset it really started to click into place. I got 75 and was really cross I hadn't gone on because I felt had a lot more time to hit the ball.
"Next time I was determined to go on - and the next time was Scarborough."
Gale did not just 'go on' against Notts, he went on spectacularly, scoring 272, and followed up with 103 against Middlesex at Lord's and then 148 against Surrey at Headingley.
"I made a statement at Scarborough and to back it up twice was pleasing," he said.
"When you get a score it relieves the pressure, and you get into that 'zone'. Instead of thinking 'I have to get to 10' or whatever, now it's a case of going out thinking about playing shots, playing the scoreboard - you forget about what score you're on.
"I don't think it's changed the way I captain on the field, but it's changed my whole mindset of the lads having faith in me. Backing up why I am captain, leading from the front - since taking over as captain I've prided myself on that and three hundreds in a row justifies that.
"I think my captaincy style has changed though. I think I'm a lot more relaxed. I have a relationship with Dizzy that's very different to the one I had with [previous head coach, now director of cricket] Martyn Moxon in the way things work.
"Jason takes a lot of pressure off me off the field. Not just in things like dealing with the media, but in things like when a player is left out. The way it works is he'll pick the squad, and when it comes to the final 11, I'll have my gut feeling as to who plays - but it's him who tells the players who are left out.
"That can be stressful, and I was the first to deal with unhappy players under Martyn, but Jason wanted that to be his job so I can just concentrate on the 11 who are out there. I think that's made me closer to the lads.
"No-one wanted to say something wrong or step out of line beforehand, now they're a lot more relaxed.
Gale believes his captaincy has become more aggressive since his return to form with the bat, but is quick to point out that you can only be aggressive if bowlers put the ball in the right areas consistently.
"In previous years we might have bowled five decent balls and let the pressure off with the sixth, but with the seam attack we have now, I can really put pressure on the opposition.
"To win the Championship in our 150th year would be a fairytale - I would be very proud. At the start of the season, I was a bit concerned that extra pressure might affect the players, but it's just made them lift their game.
"Come that last game of the season at The Oval, we want to be lifting that Championship. We're halfway and we're top, and that makes me even more determined to push on and really hammer it home."