Sam Agarwal: Oxford student breaks Varsity batting record
Last updated on .From the section Cricket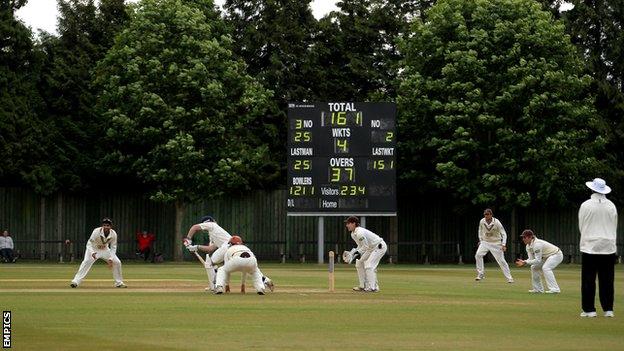 Oxford University batsman Sam Agarwal has set a Varsity match record by scoring 313 not out against Cambridge.
It was the first treble century in the history of the match, which was first played in 1827, and bettered the 247 for Oxford in 2005 by Salil Oberoi.
"It's a fantastic feeling," Agarwal told BBC Radio Oxford.
"It doesn't hit you until you realise what other people say and all their messages and kind words, the good thing is the team is in a good position too."
The 22-year-old struck three sixes and 41 fours in his innings at Fenner's, which lasted just over seven hours.
He also shared a record fourth-wicket partnership of 194 with Matt Winter (51) before Oxford declared on 550-7.
"It was quite a sticky pitch and I thought getting in was the hardest part but after that it was quite easy to score," said Agarwal.
"I just wanted to break the innings down into blocks so 50 then 100 and just carrying on batting, in the past I've been a culprit of giving it away too easily once I get to three figures.
"The big milestone was never in my sight it was just a case of batting and getting the team in the right position and it just happened that I got 300."
Agarwal, who was born in India, made a first-class century earlier this season in Oxford's defeat by Warwickshire.
He has also played a number of games for Surrey's second XI this summer but is not contracted to the county.
"I'm really looking forward to continuing to work with Surrey, my next step is to score runs for them this summer and hopefully pursue a career path in cricket with them," he added.