Ashes 2013: Is England's batting a worry for Australia series?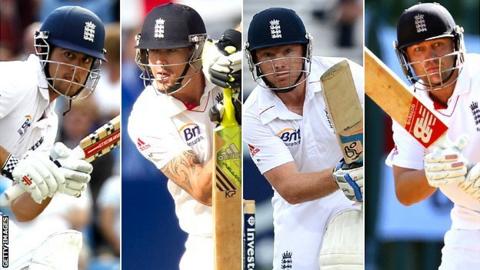 On the face of it, all the pre-Ashes problems belong to Australia.
A last-minute change of coach, a bar-room punch-up and a captain with a dodgy back have left the Baggy Greens as big underdogs for the first time in a generation.
England, though, have issues of their own to address when the contest for the urn begins at Trent Bridge on Wednesday, 10 July.
Since the beginning of 2012, a year that started with England on top of the world Test rankings, the Ashes holders have repeatedly struggled to post match-winning first-innings totals, an aspect of their game that was previously so strong in their climb to number one.
Indeed, in the time between the last home Ashes series, a 2-1 victory in 2009, and the 4-0 win over India in 2011 that confirmed England as the world's best, they were posting average first-innings scores of 412.
However, over the past 18 months and in a run that has seen England win only three of their last seven series, that average has fallen to 323, a drop of almost 100 runs.
"If you're getting bowled out for 323, the opposing team know they don't need many to get in the game," said former England captain Michael Vaughan.
"That gives the opposition more confidence and puts more stress onto your bowlers. It's all about scoreboard pressure."
The batting dip has had just that effect on the performance of England's attack.
Whereas the period 2009-11 saw them dismissing the opposition for an average score of 297, the last year and a half has seen that rise to 336.
Coupled with the batting effort, England have gone from earning an average first-innings lead of 115 to conceding a deficit of 13.
"I wouldn't like it to be that way," England batting coach Graham Gooch told BBC Sport.
"You want to be putting sizeable totals on the board in order to give your bowlers the opportunity to win the match. We need to improve on that."
England could justifiably point to some mitigating factors. Latterly, more of their Test matches have been played away from home against stronger bowling units.
The spell between 2009-11 included home and away series against an Australia team in transition and the perennially poor Bangladesh, while England also hosted India, Pakistan and Sri Lanka, whose bowlers often struggle outside the subcontinent.
By contrast, their schedule from the beginning of last year has included trips to play all three of Asia's strongest sides, as well as hosting a powerful South Africa team.
Yet that does not explain the collective dip in form of all four of the batsmen to have most regularly lined up for England since Australia last toured.
Alastair Cook's average over the two time periods fell from 57.35 to 47.31, Jonathan Trott from 57.79 to 42.45, Kevin Pietersen 50.45 compared with 42.15 and, most dramatically, Ian Bell's slide was from 72.25 to 32.07.
Furthermore, England struggled on the flat pitches of New Zealand earlier this year and even lost their first seven wickets for 212 in the Ashes warm-up game against Essex.
"We played on some result pitches in India, but in New Zealand they were very flat pitches and we twice got bowled out for low scores," said Gooch, England's record run-scorer with 8,900 in 118 Tests.
"The hundreds and big scores have been there but you want to maintain consistency. We had a very good series against India in 2011 and we want to re-establish that consistency."
Consistency, or the lack of it, explains the regular tinkering of England's batting line-up since the trip to play Pakistan in the UAE at the beginning of 2012, shuffling that has continued right up to the eve of the Ashes.
During their ascent to the top of the world rankings, the team led by Andrew Strauss barely altered a top seven of him, Cook, Trott, Pietersen, Bell, Paul Collingwood and Matt Prior.
However, since Collingwood's retirement in 2011, England have handed middle-order opportunities to Eoin Morgan, Jonny Bairstow, Ravi Bopara, Samit Patel, Joe Root and James Taylor.
Root is the only one of those names to have nailed down a place in the side and his success has led the England management to push him up the order to open, with Nick Compton looking set to lose his place when the squad for the Trent Bridge Test is announced on Saturday.
Of course, England's recent failings may count for little against the Aussies.
After all, we have been led to believe that the tourists are in disarray and England need only to turn up and toss the coin in order to retain the urn.
The statistics, however, beg to differ. During England's 18 months of mixed performances, Australia's batsmen have been in the sort of form that took their oldest enemy to the rankings summit.
Against similar opponents to England - both sides were beaten at home by South Africa, England won in India compared to the Aussies' 4-0 humiliation - Michael Clarke's side have been registering average first-innings scores of 412 with the bat while conceding 327 with the ball.
And, despite replacing coach Micky Arthur with Darren Lehmann, banning opener David Warner for punching Root in a Birmingham bar and being without a settled batting order during their time in England, the Aussie batsmen impressed against Somerset before hitting Worcestershire all around New Road.
"There is a drastic margin between the runs Australia and England have been scoring," said Vaughan, who captained England to victory in the 2005 Ashes.
"We've all been talking about this Australia line-up not having a great top seven. The stats prove that they can get big scores."
And that is where the Ashes may be won and lost. In a contest between two sides whose bowling attacks are stronger than their batting line-ups, the team that can post imposing totals will take the upper hand.
"Our players know that one of the disciplines of Test match batting is to bat long," concluded Gooch.
"They have to set their stall out to build an innings in the old-fashioned way and we need to improve on that if we are going to put pressure on the opposition.
"You have to put runs on the board in order to win Test matches. That's the goal we'll be working to over the next couple of months."