Ashes 2013: England opener Nick Compton unhappy with selectors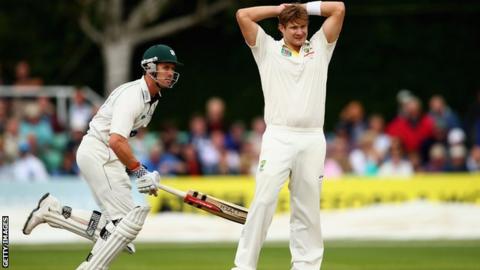 Nick Compton believes he has not been given a chance by the England selectors after being dropped for their warm-up match against Essex.
The South Africa-born opener gave a timely reminder of his talents scoring 79 for Worcestershire against Australia in a warm-up match.
But Compton, 30, said: "I don't feel that I had a fair crack of the whip.
"I don't know where things stand to be honest. I got told I had been dropped. Your guess is as good as mine."
Joe Root opened the innings against Essex, suggesting he will bat there in the first Ashes Test on 10 July.
Compton, grandson of the late England batsman Denis, had made successive centuries in New Zealand in March but only 39 runs in four innings against the Kiwis in the two home Tests in May.
He made his Test debut in India in November, scoring 208 runs in the four matches at an average of 34, with a top score of 57.
"People doubted me when I got picked for England; people doubted me in India; they doubted me when I got nought in New Zealand and then I scored two hundreds but they even doubted me after that series," he said.
"I feel like this was a very good response actually. Time and time again I get asked to make responses and I feel like I do that every single time.
"[England team director] Andy Flower said go away and score runs. I have done that. How many runs is scoring runs?"
Compton told the BBC he believes he still has an international future and reiterated his desire to fight for a place.
"I'm certainly not going to lose hope of playing in an Ashes series. It's a dream of mine and something I've worked very hard to achieve," he said.
Following Compton's performance for Worcestershire, Flower said: "It's really nice to see, it's a good reaction from him.
"It was nice for him to get more exposure of playing [against] an international side. It was a really good reaction from him to get runs consistently and it shows he's a good, tough fighter.
"He's obviously an opening batsman so if there was an injury to someone batting at six it doesn't mean he's the next cab off the rank."