Arul Suppiah: Somerset all-rounder retires because of injury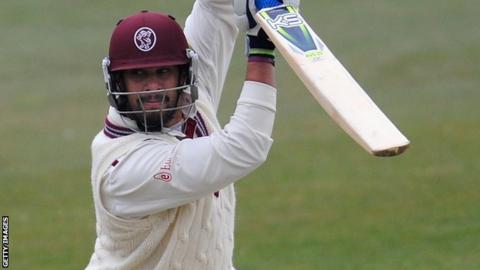 Somerset all-rounder Arul Suppiah has been forced to quit professional cricket because of injury.
The 29-year-old has been suffering with from problems in both knees and has been advised to retire immediately.
Malaysia-born Suppiah has spent his entire career at Somerset, having attended Millfield School on a cricket scholarship from the age of 13.
"I am devastated to have to retire from the game that I have always loved," said Suppiah.
"This is the hardest decision of my life, especially having played for Somerset for so long.
"I have so many happy memories of my time at Somerset and would like to thank everybody from players, staff and members who have supported me during my playing career at the county.
"Somerset will always be my county and from the other side of the boundary ropes, I shall continue to support the lads in every way I can."
Suppiah made his first-class debut for the county in 2002 and has scored 5,156 runs and taken 45 wickets.
He was a member of the Somerset squad that won the 2005 Twenty20 Cup, and set a new world Twenty20 bowling record by taking 6-5 against Glamorgan in July 2011.
Suppiah's final appearance for the county came in last month's drawn Championship game against Durham.