Northants: Muhammad Azharullah taking his chance in first team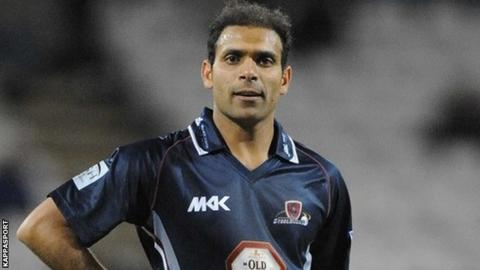 Northants bowler Muhammad Azharullah says he is making up for lost time now that he is in the club's first team.
The 29-year-old has taken eight wickets in three YB40 matches, seven wickets in two County Championship games and 3-23 in the Steelbacks' Twenty20 opener.
He told BBC Radio Northampton: "I started playing cricket in Pakistan in 2006 and [had to take] three years off.
"I got married in Yorkshire and you have to wait [that long] to play first-class cricket here."
Azharullah added: "Northants is a wonderful club with wonderful people."
His form with the ball has helped to lessen the blow of losing Australian bowler Trent Copeland.
"Copeland was exceptional," said Azharullah, who was recommended to Northants by Ralph Middlebrook, father of spinner James Middlebrook.
"But I've been through it before, playing with test cricketers, so I just do what I do best. I forget who I'm coming for and who was playing before me."
Azharullah played for Multan Region, Multan Tigers, Quetta Bears and the Water and Power Development Authority in Pakistan prior to his move to England and appearances for the Northants Second XI.
"The Water and Power Development Authority is very good first-class team. We had the likes of Rana Naved and Junaid Khan," he said.
"It was where I made most of my progress. To stay in the fast bowling attack, I had to work hard.
"It's quite flat surfaces there, so if you don't have these skills, you don't do very well.
"When I came here, I played in Yorkshire for [Ralph Middlebrook's club] Pudsey Congs and I came and trialled with Northants in the winter.
"I had to push myself to get into the team but I'm really happy with the way the team is performing and the spirit in the team."