Ashes 2013: Ed Cowan and Chris Read certain of tight series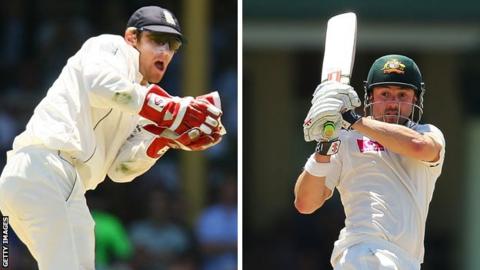 Australia batsman Ed Cowan is in no doubt his side have the quality to match England in this summer's Ashes despite being big underdogs.
The touring Aussies have been written off by large sections of the English media, with legendary England all-rounder Ian Botham even predicting a 10-0 whitewash in the two back-to-back Ashes series.
But in a special pre-Ashes preview show to be broadcast on BBC Radio Nottingham on Tuesday - the night before the opening Test at Trent Bridge - Cowan, and his Nottinghamshire team-mate and former England wicket-keeper Chris Read, say they both expect it to be much tighter.
Cowan said: "We feel that we have a squad that can really match them in these conditions and put their top order under pressure.
"And if we can do that - and our top order stands up - then I think it will be a hell of a lot closer than the British press are making out.
"There will two world-class attacks going against some high-class batting. Both teams have big players in the batting order. We have Michael Clarke who I think is the best player in the world and he is probably only matched by Alistair Cook.
"Our young cricketers have been written off but it is time to show their class under pressure."
"We understand we are up probably against it," Cowan added. "England have proved to be the hardest side to beat at home over the last 10 years, so we know that they understand their conditions beautifully and have all their bases covered.
"But we are confident."
Read, who played two Tests the last time Australia won the Ashes in 2006-07, expects England to win the series but is convinced it will be a lot closer than many people are making out.
Cowan and Read discuss the impact of both sides' recent tour to India, English conditions, Ashes memories and the excitement of playing in "pinnacle of cricket" for an Englishman or Australian.
You can hear BBC Radio Nottingham's hour-long Ashes special on the eve of the 2013 series at 1800 BST on all frequencies and on the BBC Nottingham website.