Ashes 2013: Logic dictates England win but paranoia exists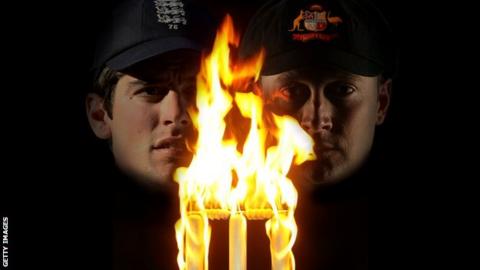 This is a new one, even for an England team that have recently been ranked the best in the world and beaten their oldest rivals both home and away: for the first time in almost 30 years, they are about to begin an Ashes series as rampant favourites.
Even now, it feels unnatural for many of their supporters. How both players and spectators alike handle it over the course of the next six weeks is just one of many fascinating sub-plots to an overall narrative that will decorate this second half of the sporting summer just as the deeds of Andy Murray and the British and Irish Lions have the first.
It is easy to mock this Australia side. Many heading to Trent Bridge on Wednesday for the first Test will be looking forward to doing so.
Weaker both in terms of star names and statistics than any team to travel from down under in a quarter of a century, they have been embroiled in the sort of tumultuous off-field histrionics that used to be England's expertise - players falling out with management, players falling out of bars, head coach suspending players, management sacking the coach.
Home supporters, most raised on the diet of Aussie domination and England capitulation, are both unusually gleeful and quietly cautious.
Logic dictates that a side that have won the past two series - by a whisker four years ago, and in glorious style 18 months later - should do so again. England wintered by beating India in a Test series away from home; Australia returned from their own trip both trounced and chastised.
Deep-rooted paranoia, incubated over many long years of self-deprecating defeat, remains all the same.
It renders Australia's decision to jettison coach Mickey Arthur a masterstroke rather than an indication of chaos in the ranks, the appointment of Darren 'Boof' Lehmann a frightening development rather than a last-gasp panic.
Lehmann, as stereotypically a good-bloke Aussie as Arthur was a disciplinarian South African, will undoubtedly bolster the tourists' morale. In James Pattinson he has a fast bowler who combines aggression with accuracy, in Mitchell Starc a left-arm swing bowler who could flourish in English conditions.
All the same, their limitations cannot be ignored. In a composite XI made up of the best players from either side, Australia might arguably supply just two names - Pattinson and skipper Michael Clarke. As recently as six years ago, the exact opposite would be true.
This Australia outfit are being pushed by their advocates as a team with nothing to lose, a collection of scrappers and underdogs who could upset the old enemy successfully, as the similarly unheralded tourists of 1989 did.
It plays well to the national psyche, removes the pressure, leaves the onus on England to fail. It may even have an element of truth to it.
Equally, England captains of the past, those batsmen tormented by the genius of Glenn McGrath and Shane Warne, or bowlers taken apart by Ricky Ponting and Matthew Hayden, could be forgiven for looking at the current line-up with envious eyes.
Peter Siddle, for all his toil and snarl, is no McGrath. The likeable and hard-working Nathan Lyon is as unobtrusive as Warne was unstoppable; a top order containing Phil Hughes and Steve Smith looks as durable as ice-cream and as intimidating as custard.
In such a team, there is a greater weight on the shoulders of Clarke than perhaps any Aussie skipper since Allan Border in the mid-1980s.
His likely team-mates for the first Test can muster just 12 Test centuries between them. England counterpart Alastair Cook's have 57. In the last Ashes series, Cook scored 766 runs, Clarke 193.
Clarke, however, has been on an extraordinary run of form. In the last 12 months he is averaging 84 in Test cricket; in 2012 he plundered 1,595 runs at an average of 106 with a highest score of 329 not out.
Previously not as loved at home as predecessors like Ponting, Steve Waugh and Mark Taylor have been, Clarke has flourished under the immense pressures of his role. Less chippy than he was in the ranks, he remains more of a gambler in the field than former chorister Cook. Which of the two gets the upper hand with bat and tactics could be critical to the overall equation.
The worry for both lies in their batting line-ups. England need Joe Root to convince in his new role at the top of the order, just as he has at five. Jonny Bairstow can provide contrasting biff at six, while the form of Kevin Pietersen - the batsman the Aussies fear more than any other - will dictate the series' tempo.
Pietersen has the star billing. He may still not be England's most dangerous weapon. With Australia's line-up vulnerable to the turning ball and Starc's follow-through likely to create considerable rough outside a right-hander's off-stump, Graeme Swann's off-spin may be the defining feature of the battles ahead.
England, too, will be confident of a good start. They have won seven of their last nine Tests at Trent Bridge. With no draw there in all that time, one side is likely to go into the set-piece of the second Test at Lord's with nose in front.
For a sport struggling to maintain the interest and integrity of its longest format, an Ashes series is a chance to ignore plummeting audience figures elsewhere and pretend, for six tooth-and-nail weeks, that all is right in the Test-playing world.
For the casual fan, the contest has an allure like no other. Some 327 Tests in, England against Australia continues to fascinate and thrill. This is one duel that seems immune to time and changing tastes.
2012, we all thought, would be a summer like no other. With the weather set fair and the nation riding high on the triumphs of Murray at Wimbledon, the Lions in Australia and maybe Chris Froome at the Tour de France, 2013 may yet come close.
Talk of a 5-0 England whitewash is probably fanciful. More likely is a narrower margin followed by a tighter contest yet when the two nations meet again on Australian soil this winter.
Not in 123 years have an England team won four consecutive Ashes series. Even in the long history of this greatest rivalry, there are fresh and irresistible challenges.