Hedley Verity: Ashes legend who died for his country
Last updated on .From the section Cricket106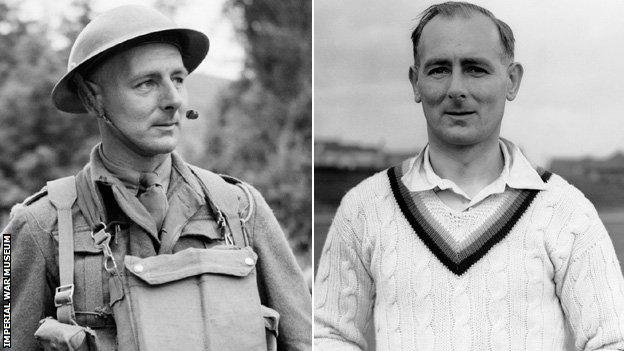 England cricketer Hedley Verity, accustomed to the manicured turf and genteel surroundings of Headingley and Lord's, was now leading his troops against the German army in Sicily.
Shells were exploding overhead, illuminating the night sky. Artillery fire rained in from all angles, making the dusty ground fizz and spit venomously. And the burning trees and crops surrounding Verity's battalion made them feel both trapped and exposed.
Captain Verity, 38 years old and suffering from the debilitating effects of dysentery, remained at the front of his men. He ordered one of his platoons to a distant farmhouse and told the other to give them cover.
Almost as soon as he uttered the words, Verity was hit in the chest by a piece of shrapnel and dumped to the ground in agony. Yet he still implored his men to "keep going".
Verity died on 31 July 1943, almost exactly 70 years ago, and was the most illustrious of the five England Test cricketers to be killed in action.
The proud Yorkshireman is regarded as one of the most effective slow left-arm bowlers in the history of English cricket, having taken an astonishing 1,956 first-class wickets at an average of just 14.90, inspiring Yorkshire to seven County Championships during the 1930s. The highlight of his domestic career was 10 for 10 against Nottinghamshire in a championship match in 1932, which is still a record today.
Verity played in four Ashes series, including the infamous 'Bodyline' tour of Australia in 1932-33, which England won 4-1. The second Test of the 1934 series has actually become known as 'Verity's match', after he took 15 for 104, including 14 wickets in a day and the scalp of the great Don Bradman in each innings. Before Graeme Swann achieved the feat against Australia on Friday, he was the last England spinner to take five wickets in an Ashes Test at Lord's.
His Test record is 144 wickets in 40 Test matches at an average of 24.37 and he took Bradman's wicket more times than any other Test bowler - eight times in 17 Tests. The legendary Australian actually wrote the foreword to Alan Hill's excellent biography 'Hedley Verity: Portrait of a Cricketer', which was published in 1986 and remains the definitive tome on the bowler.
Bradman writes: "We were great rivals and I grew to respect him both as a gentleman and a player. His ideal physique and lovely economical lazy run-up were co-ordinated to put him in a perfect delivery position, with a superb command of length and direction.
"But more than his cricketing skill was his sportsmanship and manly bearing under all circumstances. I never once heard him complain or offer a criticism.
"His whole career exemplified all that was best about cricket and I deem it an honour and privilege to have been on stage with him in those golden days of the 1930s."
Former Yorkshire and England captain Brian Close told me Verity has long been revered at Headingley, the ground he was born within the shadow of where there is a plaque bearing his name next to the Hutton gates.

"I was only eight when the Second World War broke out," Close said, "so I never saw Hedley Verity play. But I looked up the records and heard others talk about him and soon realised what a great bowler he had been.
"Before the War, Yorkshire had a great side and Hedley Verity was clearly a key part of it."
Verity's last first-class match was against Sussex at Hove in September 1939, when he took seven wickets for nine runs to bowl Sussex out for 33 in their second innings. After that, the County Championship was postponed because of the war, although Yorkshire had already done enough to claim their seventh title of the 1930s.
Verity joined the British Army soon afterwards and was posted to the first battalion of The Green Howards, along with fellow Yorkshire players Len Hutton,Herbert Sutcliffe,Maurice Leyland and Arthur Wood.
It was little wonder that Verity claimed: "I reckon we can put out a team to beat any county side in England." He quickly rose to the rank of captain and was posted in Northern Ireland, India - where he contracted dysentery - and Egypt, before arriving in Sicily for the assault on Catania in July 1943.
There were plans to withdraw him from service after the Sicily campaign, with Lieutenant General Miles Dempsey saying "in a matter of a week or so he would have been safe and able to play for Yorkshire again after the war", but the chance never arose.
During the battle, Verity was struck in the chest and his second in command, Laurie Hesmondhalgh, was killed. Several of the battalion were captured by the Germans and the next day Verity's batman, private Tom Rennoldson, was allowed to go and look for his captain. He found Verity and was able to carry him to a field hospital, where an emergency operation was carried out in the afternoon.
Then, in sweltering, overcrowded conditions, he was ferried in an open railway truck across the straits of Messina to Reggio in Italy. Verity, by now exhausted and in very bad health, reached Naples on 26 July and was taken to a military hospital in Caserta. There he was recognised by another injured Yorkshireman, medical orderly Corporal Henty from Leeds.
"I asked his name as he lay on the stretcher and when he gave it I remarked 'are you the Yorkshire cricketer?'" Henty says in Verity's biography. "He replied 'yes, that's me'. Hedley Verity was a name to conjure with and I was anxious to see everything was done to make him comfortable.
"The captain then showed me a picture of his wife and two sons. It was very touching and he was clearly very proud of them."
Three days later, Verity underwent an operation to remove part of a rib that was pressing on his lung - under only a local anaesthetic. Yet he suffered a series of haemorrhages. which couldn't be stemmed, and died on the afternoon of 31 July.
The Italians gave him full military honours at his funeral, with officers at Caserta acting as bearers and the coffin itself being draped in a union flag.
Back home, his wife Kathleen and sons Douglas and Wilfred knew nothing of his demise for several weeks. Verity's former England captain, Douglas Jardine, wrote them a letter which read: "I hope you will soon have better news of the cricketer and man I most admired."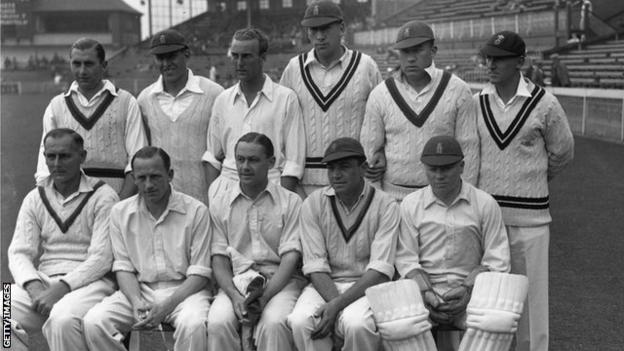 News eventually arrived on the morning of 1 September, exactly four years to the day since Verity had last played for his beloved Yorkshire. His sister Grace remembers receiving the news and the effect it had on her father, who had been so close to his only son.
"I shall never forget the sight of father's face when he received the news of Hedley's death," she said.
Jardine played in a memorial match for Verity at Roundhay Park in Leeds in 1948. "I venture to doubt whether any other bowler of his type has proved such a master on all wickets," he said in a speech to the assembled players and spectators.
And when Hutton led his England side to Australia for the 1954-55 Ashes series, the boat carrying them on their epic journey stopped in Italy in order for the team to pay their respects to Verity. The players laid a wreath, a single white rose and a Yorkshire scarf at his grave.
Many tributes to Verity can still be found in the cemetery register at Caserta, including one penned by a North Yorkshireman, which simply reads "thanks for looking after our men".
* In The Spotlight: Sport and War is a new display at IWM North, part of Imperial War Museums, in Manchester, running until January 2015.