Isle of Man beaten by Denmark in ICC Division One
Last updated on .From the section Cricket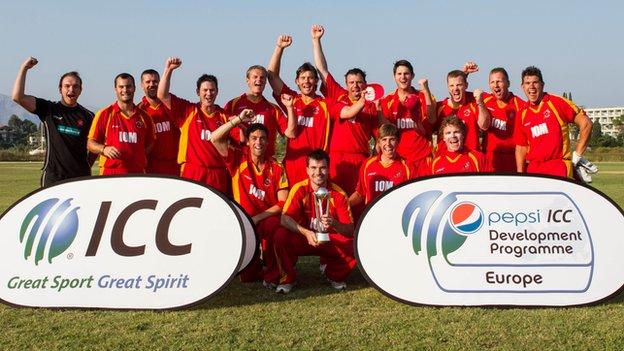 The Isle of Man have lost to Denmark in their opening match of the ICC Europe Division One tournament in Sussex.
The Manx team, who were promoted to the competition after last year, batted first, making 121 all out from 19.3 overs.
Last year's champions then surpassed the island's target for the loss of three wickets to top group B.
Jaco Jansen top scored for the island with 43 while Denmark's Carsten Perdersen hit an unbeaten 47.
Isle of Man coach Gareth Dawson said: "We knew it would be a tough start for us. They won the competition last year but we did ourselves proud.
"We are very much the tournament's underdogs but that suits us fine."
Dawson, whose side will now take on France at Horsham on Tuesday morning, described the competition as the national sides ".
The other teams in their group are Belgium, Germany and Jersey.
Meanwhile, Group A will be contested by Austria, Guernsey, Gibraltar, Italy, Norway and Sweden..
The top two nations progress to the World T20 qualifiers in the United Arab Emirates in November.
Isle of Man squad
Matthew Ansell, Daniel Hawke, Christopher Hawke, Jaco Jansen, Luke Lacey, Philip Littlejohns, Adam McAuley, Garreth Roome, Alexander Stokoe, Max Stokoe, Arne van den Berg, Carl Wagstaffe, Oliver Webster, Mark Williams, Gareth Dawson (coach), Andrew Parkin Coates (assistant coach), Barry Smith (manager).