James Tredwell: Kent's current form is 'embarrassing'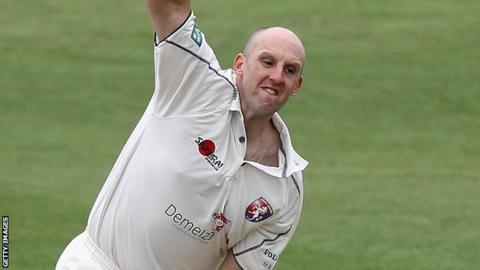 Kent captain James Tredwell has labelled his side's form "embarrassing" following the defeat by Essex - their fifth straight FLt20 loss.
Monday's 62-run loss leaves Kent bottom of the t20 South group, without a point from their five games.
And Tredwell's team are also still without a victory in the four-day format of the game this summer.
"It's slightly embarrassing to get to the point where we keep doing the same things," Tredwell told BBC Radio Kent.
"We've not got a substantial partnership in that top five, and it goes to show that it costs you dear."
"We keep looking for the answers but we've not found any yet. We've got Championship cricket now and hope to pick up."
After five straight matches in t20, Kent are back in action in the Championship against Gloucestershire on Wednesday, where they lie bottom of Division Two.
And Tredwell has bemoaned the lack of preparation time between switching formats.
"It would be nice to have a bit of preparation time before," England international Tredwell said.
"We've played five games of t20 on the bounce and you've got one day when you go into a back-to-back scenario of a Championship match.
"But we've got close on a couple of occasions, and it will be nice to get back to that form of the game."