Irish qualify for 2015 World Cup after dramatic tie against Dutch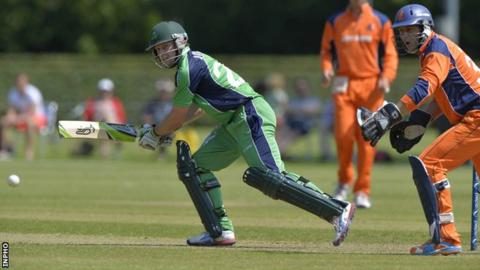 Ireland secured qualification for the 2015 World Cup despite being held to a dramatic tie by the Netherlands.
Ed Joyce's unbeaten 96 helped the Irish reach 268-5 with Niall O'Brien hitting 50 and Paul Stirling 49 in Amstelveen.
The Dutch threatened as they moved to 135-1 by the 27th over and they needed 13 off the final over to win.
Edgar Schiferli's run out seemed to have sealed Ireland's win but Michael Rippon hit John Mooney for four and six in the final two balls to earn the tie.
After his penultimate ball had been hit to the boundary, Mooney attempted another short delivery and Rippon's slog flew for six beyond the dive of Irish skipper William Porterfield on the boundary.
The hosts had needed 16 off 12 balls to win before Alex Cusack's superb penultimate over - as he conceded only three runs and took the wicket of Mudassar Bukhari - appeared to have given the Irish the initiative.
But then came the last-over drama which led to confusion over whether the tie was enough to secure Ireland's qualification for the tournament in Australia and New Zealand with two qualifiers to spare before confirmation came through.
Two days after hammering the Dutch in the first of this week's back-to-back World Cup qualifiers, Porterfield and Paul Stirling put on 73 for the first Irish wicket before Swart dismissed the skipper for 30.
Joyce then came in and he went on to produce a classy 113-ball 96 and was only denied a century by some tight late Dutch bowling.
Niall O'Brien's 50 came from 62 balls with Stirling missing out on his half-century by one run after being caught by Tom Cooper off Rippon in the 19th over.
After the hosts put on 50 for the first wicket before Stephan Myburgh's dismissal, Wesley Barresi and Eric Szwarczynski put together a partnership of 85 as they threatened to spoil the Irish team's qualification party.
However, Barresi then nicked a Kevin O'Brien delivery through to keeper Gary Wilson and Szwarczynski and Michael Swart quickly departed to leave the Dutch on 142-4.
Stirling bowled Szwarczynski with a superb leg-break and Swart was run out after a slick bit of fielding by Irish captain Porterfield.
The battling Dutch fought back again to put on 68 for the fifth wicket before Kevin O'Brien trapped Daan van Bunge just five short of his half century in the 42nd over.
The run-rate veered between six and eight an over before Cusack produced an impressive 49th over as he took Mudassar Bukhari's wicket and conceded only three runs.
But the dramatic final over followed as a seemingly certain Irish victory suddenly became a tie as Mooney was clubbed for 10 runs by Rippon in the final two deliveries.
Despite their frustration, the Irish had done enough to qualify for the World Cup, while the tie kept alive Dutch hopes of joining them in Australia and New Zealand.
The tie also clinches the World League title for Ireland ahead of their two remaining qualifiers against Scotland later this year.