Ashes 2013: Simon Katich worthy of Australia place - Ashwell Prince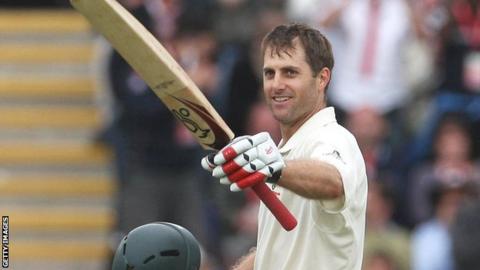 Lancashire batsman Ashwell Prince believes team-mate Simon Katich is playing well enough to be part of Australia's squad for the Ashes.
Katich, 37, in Lancashire's Division Two match against Northants.
He has not played in a Test match since the last Ashes series of 2010-11.
"He's as fit as anybody in our squad and he's batting well. I don't see why he can't be in that Australia squad," Prince told BBC Radio Lancashire.
Left-hander Katich has appeared in 56 Tests for Australia since making his debut in 2001, scoring 4,188 runs at an average of 45.03, and has featured in the last three Ashes series on English soil.
But he was discarded following the 2010-11 Ashes defeat as the Australian selectors sought to bring a younger element to the team, and Katich retired from first-class cricket in Australia last summer.
South African Prince, who has can see parallels between his own situation and that of Katich.
"I don't know exactly what the situation is with him and Australia. It's unfortunate that, when you get to a certain age, people start writing you off," he said.
"They [the selectors] will have a view of what they have in mind for their future. Selectors are always keen to bring young players in. Everywhere in the world it's the same.
"It's good for us that he's here and playing well for us. Besides the runs he's getting, more important is the character of the guy. He's a fighter."
Katich has been in extremely consistent form since passing 50 in six of his 12 Championship innings.
"I can't complain," he said after finishing day two at Northampton unbeaten on 114.
"I came over here to do a job for the boys and for the team. We're winning games, which is the main thing, and it's nice to be able to contribute to that."